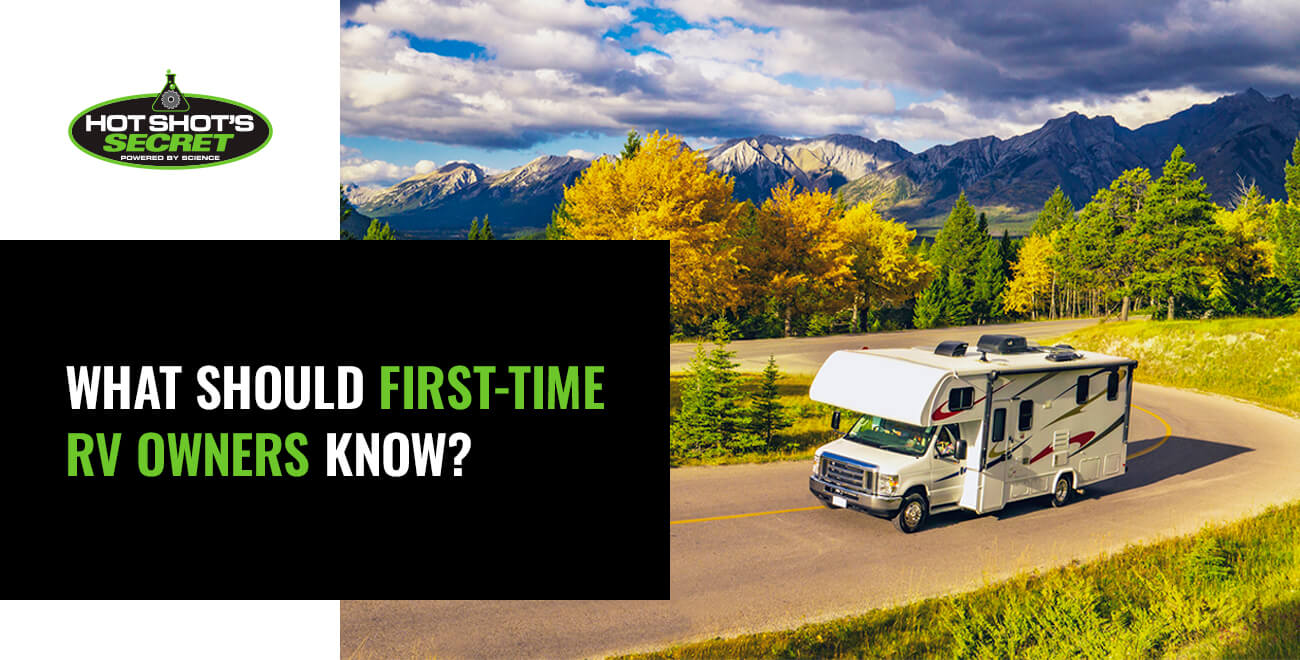 September 22, 2021
Most people look forward to vacationing and enjoying a change of scenery, but planning a trip can be an exhausting and stressful task. Trying to save up money for a dream vacation might be discouraging. You worry that the weather won't cooperate, or that you may not be able to find an available room at a nearby hotel. Have you ever wondered how you can make this process easier? Owning an RV can relieve some of this stress!
If you own an RV, you can save time and money and enjoy your vacation to the max. With an RV, you can buy groceries and cook meals in your kitchen. RVs have more space and amenities than most hotel rooms, which makes traveling with a large family or with all your friends much easier. 
Our team at Hot Shot's Secret has everything to get you started on your RV journey, including our top tips for new RVers!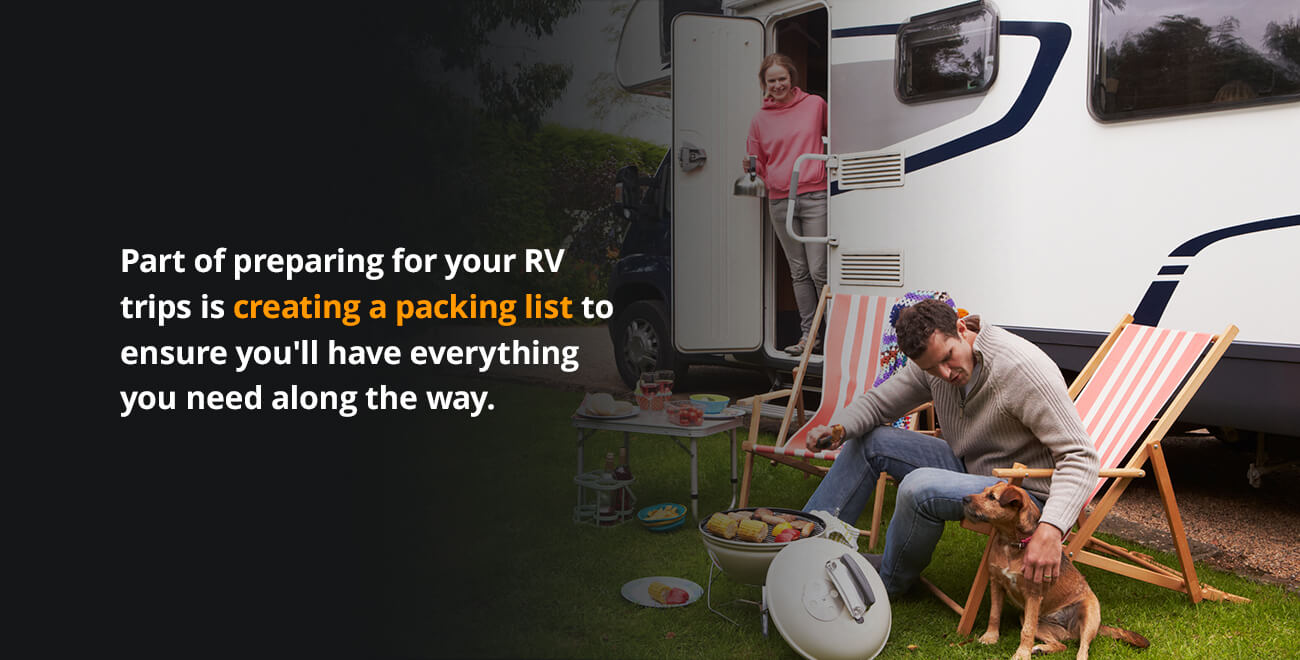 Getting Started on Your RV Trips
Part of preparing for your RV trips is creating a packing list to ensure you'll have everything you need along the way. Here are some packing tips for first-time RV owners.
Clothes: You'll need seasonally appropriate gear for your destination. It's also wise to pack an extra set or two of clothes. 
Medications: If you regularly take any prescriptions, bring them with you on your trip. When traveling to places you aren't familiar with, it's also wise to have specific over-the-counter medications in your medicine cabinet. For instance, some RVers like to make sure they have things like painkillers, allergy medicine and something to soothe upset stomachs. 
Bedding: Not all RVs will come with bedding, so you'll want to make sure you've packed the appropriate bedding for the temperature. You'll also want to make sure you have extra sheets, blankets and pillows in case you have to fold out the couch or dining table into a bed. 
Kitchen supplies: At home, you're used to having everything you need to cook, so you may not think to have another set of these items in your RV. You'll want to make sure you have plates, silverware, cups, bowls, paper towels and napkins, dish soap, garbage bags, knives and a cutting board. This brief list of kitchen supplies is a starting point. On your travels, you'll start learning what your RV's kitchen needs most. 
After your first few trips, you'll have a much better idea of what you need to have a successful and fun RV trip.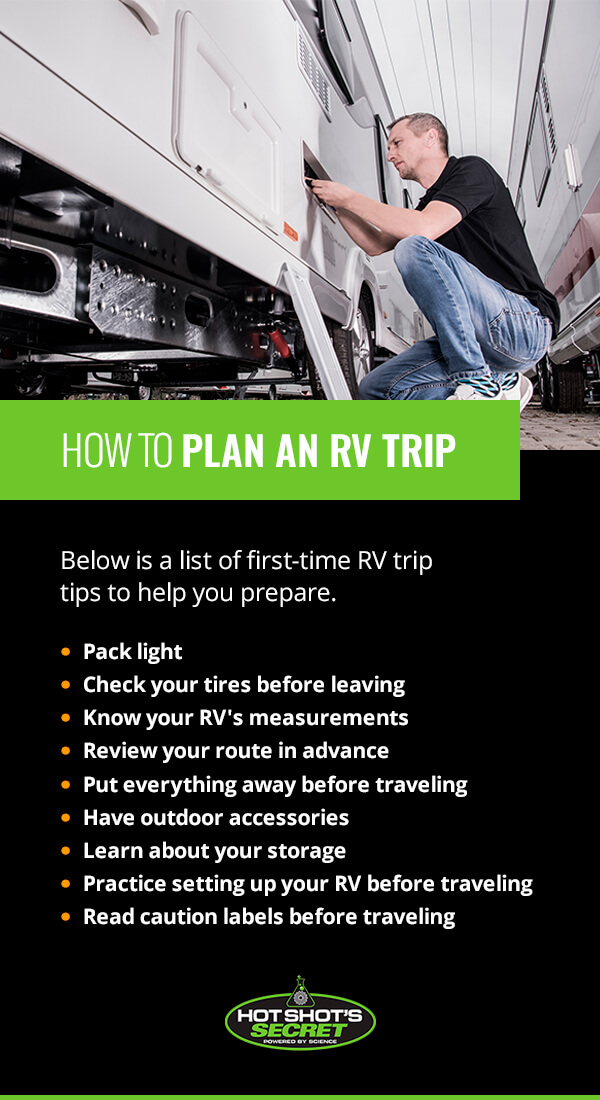 How to Plan an RV Trip
Getting ready for your first road trip is exciting, but it may also be nerve-wracking if you don't know what to expect. Below is a list of first-time RV trip tips to help you prepare. 
Pack light: With all that space to bring your favorite possessions on your trip, it can be tempting to overpack. Once you've traveled with your RV a few times, you'll start to learn what items are must-haves and which you can leave behind.
Check your tires before leaving: Even if your RV is brand-new, it is always wise to check your tire pressure before traveling. You'll want to ensure your tires aren't over- or under-inflated and even do a quick check for any punctures in the tire. Inspect your spare tires, too. Changing a tire or getting someone to tow you can be much more challenging in an RV than with a car. 
Know your RV's measurements: You'll need to know your RV's length and height to avoid getting stuck in tight places. You'll also want to keep an eye on the distance between your tires in case something goes wrong. You'll be able to catch minor issues before they spiral out of control. 
Review your route in advance: If you know your measurements, as mentioned above, looking at routes ahead of time can help you avoid areas with bridges or tunnels your vehicle might not fit through. It can also help you find RV resorts along your routes, instead of having to search for them once you're on the road. 
Put everything away before traveling: Some areas can have bumpy or uneven roads, so you'll want to secure any belongings that might bounce or roll around. 
Have outdoor accessories: Having outdoor mats and rugs can prevent you from tracking dirt and debris into your RV, keeping your home away from home cleaner and tidier. 
Learn about your storage: RV designers put storage solutions everywhere, inside and out. Familiarize yourself with these compartments, so you'll know how much storage space you have and what you have the capacity to hold. 
Practice setting up your RV before traveling: Before heading out on the road, do a trial run of your RV's setup to get comfortable with the process. You'll also want to know where all your cords and connectors are, so you can correctly hook up your RV upon arrival at a site. 
Read caution labels before traveling: Throughout the RV, you'll find several instructive caution labels. You'll want to read all these to refrain from making any mistakes or misusing something.
Your first RV journey will teach you so much about your vehicle, how to drive an RV safely and how to use all its features. These tips are an excellent place to start when trying to prepare for your first trip.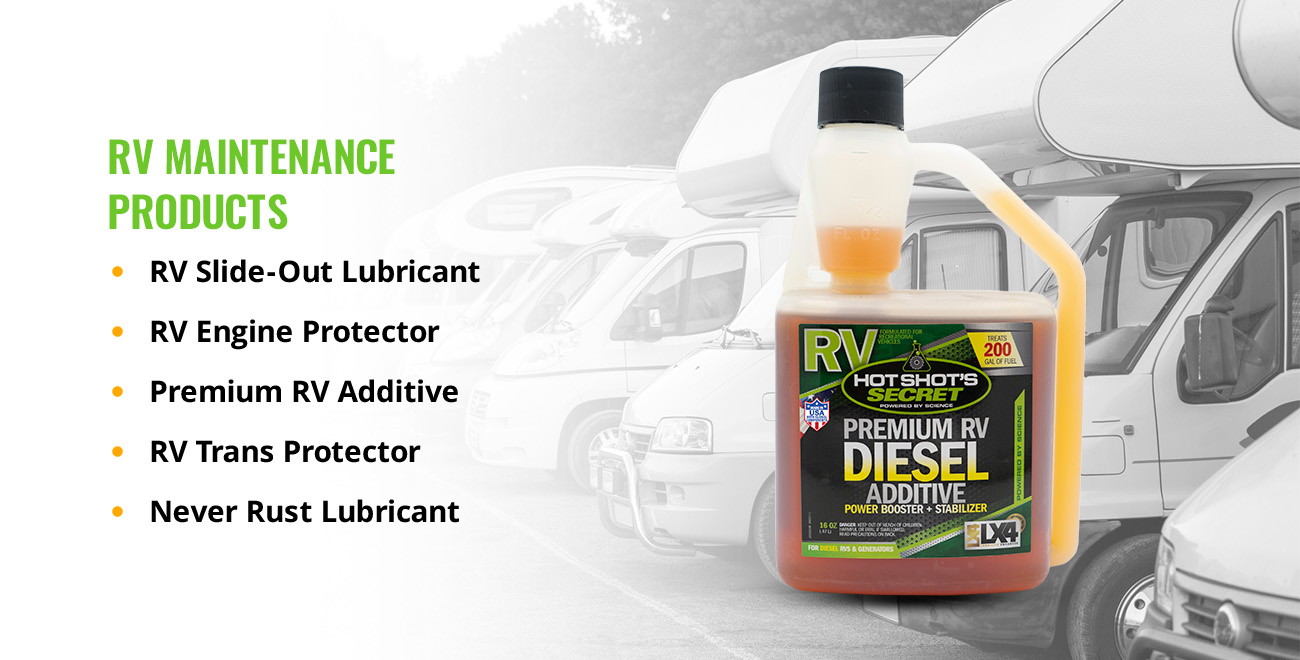 RV Maintenance Products
Maintenance can feel overwhelming for first-time RV owners, but Hot Shot's Secret can help guide you. Our scientifically proven products are the best way to protect and maintain your RV. 
These are some of our featured RV products, but you'll see we have much more to offer if you visit our shop! 
Winterizing Your RV
If you've never owned an RV, you may not be familiar with the importance of preparing your RV to protect it from damage during the winter. 
Most people prefer not to vacation when it's too cold outside, so they choose to store their RV until the warmer weather returns. Generally, you'll want to winterize your RV if temperatures are at or below 32 degrees Fahrenheit. If you don't, you could be setting yourself up for issues such as leaks, frozen pipes and dead batteries once you retrieve your RV from storage. 
How to Winterize Your RV's Plumbing
You may assume winterization is challenging, but it only entails a few simple steps. Be sure to refer to your RV owner's manual for the process you should take for your specific make and model.
Drain everything: You'll need to drain your holding tanks, water heater and interior lines, and disconnect your freshwater tank. For safety reasons, turn off your water heater a few hours before you intend to drain it. Once you open it to drain, all that water rushing out could burn you if it is still hot. 
Bypass the water heater: Your RV may have a water heater bypass system installed to drain the water tank and make it safe for winter storage. It should come with a manual or diagram to walk you through how to accomplish this task. 
Bypass your freshwater tank: You won't put antifreeze into the freshwater tank during winterization, so you'll want to ensure the chemicals don't run through it. Some RVs come with valves to help with this step. If yours does, follow the diagrams and turn the valves into the correct position to bypass your freshwater tank. If your freshwater tank doesn't have valves, disconnect it from the water pump and replace it with a line that will run from the pump directly to the antifreeze. 
Run antifreeze through the water lines: Now that you've set everything up, you'll turn on your water pump and let the antifreeze run through your lines. You'll turn on all your faucets one at a time to let the antifreeze run through all the lines. Leave the faucets on until you see the pink antifreeze, then shut them off. You'll also want to pour about a cup of antifreeze down each drain. To protect your toilet, you'll want to flush about a cup of antifreeze down. Then, you'll pour about two cups into the toilet bowl to sit. 
After you complete these steps, your RV's plumbing will be ready for those cold winter months!
Prepping Your RV for Spring Travels
Once signs of warmer weather start to arrive, it's time to de-winterize your RV for spring and summer.  Some of the tasks on your first-time RV owner checklist should include the ones below. 
Check the coolant: It's probably been a bit since you last inspected it, so this is an excellent place to start. Hot Shot's Secret even offers a line of antifreeze/coolant to help you out. 
Check your fuel filters and change if necessary: If your filter gets clogged, this could strain your fuel tank and leave you stranded. 
Check fluid levels: You'll want to look at your oil, windshield washer and brake fluid. If something is low when it shouldn't be, top it off before hitting the road. 
Check your engine: Just like with fluid levels, you'll want to make sure the engine is in good working order. To take it a step further, you can do a spring clean using our RV engine protector. 
Check your slides: Our RV slide-out lubricant keeps all your sliding parts free from corrosion. 
Check your tires: If your tires sat all winter, ensure the cold didn't damage any of them. For instance, dry rot can be a problem for winterized RV tires.
Check your battery: Just like your tires, if you didn't use your RV's battery all winter, you'll want to test it to avoid breaking down somewhere on your trip. 
Check all safety devices: You'll want to inspect any fire extinguishers, fire alarms, carbon monoxide alarms and anything else you may have installed in your RV. 
Check your water systems: You need water for cooking, drinking, cleaning and bathing, so ensure your RV's plumbing fixtures work correctly.
Winter weather can cause RV malfunctions, especially in areas where temperatures routinely drop below freezing. It's crucial to review your owner's manual and familiarize yourself with the steps to take each spring to ensure everything is in working order before hitting the road in your RV.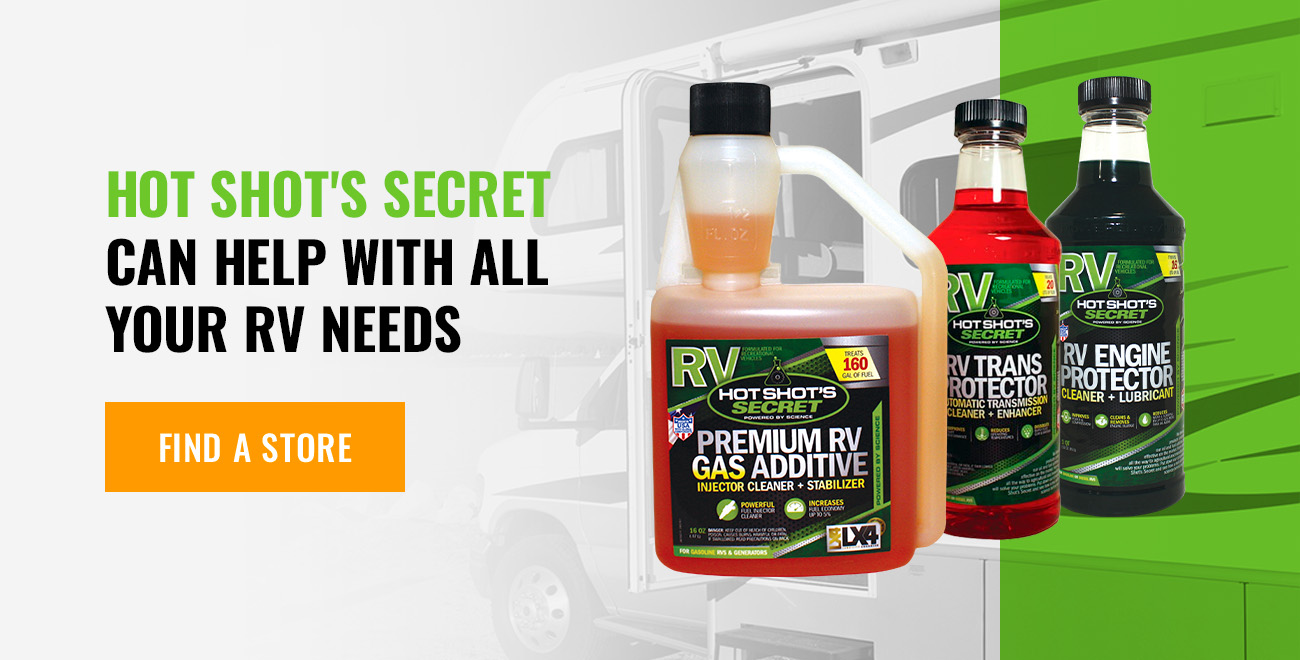 Hot Shot's Secret Can Help With All Your RV Needs
Being a first-time RV owner can feel overwhelming at first, but Hot Shot's Secret is here to help you throughout your journey. We offer many products to help keep your RV in top shape and protect it and its moving parts. 
Shop anytime via our convenient online store. We offer a 100% money-back guarantee if our products don't perform as promised. You can also find a store near you for purchasing Hot Shot's Secret. 
If you have any questions for us, please call us at 844-311-6204 or fill out the form on our website, and we'll get back to you as soon as we can. 
Hot Shot's Secret wants to help you protect the investment you've made in your RV!