A DIY Tool to Quickly Diagnose Diesel Engine Issues and Uncover Solutions
With only a few clicks – vehicle type, engine model, and symptom – Diagnose your Diesel provides you with quick ways to find the source of your diesel's problem and a plan for quickly solving it yourself.
Diagnose Your Diesel delivers you multiple repair options with descriptive instructions, video, illustrations and photos.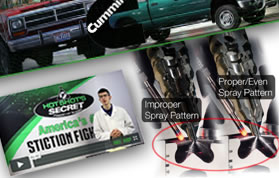 The contents of www.HotShotsSecret.com, such as text, graphics, images, and other material contained on the Diagnose Your Diesel section are for informational purposes only. Always seek the advice of your mechanic or other qualified professional with any questions you may have regarding your vehicle's condition.