6.7 Power Stroke Oil Capacity
Fluid Capacity
Fluid Type

Application

Oil Capacity

Service Interval

Fluid Spec

Notes

F250 Super Duty, F350 Super Duty, F450 Super Duty, F550 Super Duty: 6.7L Powerstroke Engine

10,000 miles or as indicated by the instrument cluster message center

F250 Super Duty,F350 Super Duty,6.75 FT. Bed Len

F250 Super Duty, F350 Super Duty,8 FT. Bed Len

Automatic Transmission Fluid

Trans Mfr CD 5R110W TorqShift

Automatic Transmission Fluid MERCON SP

Use Shift Restore as a preventative maintenance product or to solve existing issues with the transmission.

MERCON, MERCON V and MERCON SP are not interchangeable. DO NOT mix MERCON, MERCON V and MERCON SP. Approximate dry capacity including transmission fluid cooling system, actual refill capacities will vary based on vehicle application and transmission fluid cooling system. The amount of transmission fluid and fluid level should be set by the indication on the dipstick's normal operating range.

Automatic Transmission Fluid MERCON LV

Recommended: BLUE DIAMOND DEXRON VI & MERCON LV TRANSMISSION FLUID
Use Shift Restore as a preventative maintenance product or to solve existing issues with the transmission.

MERCON, MERCON V and MERCON LV are not interchangeable. DO NOT mix MERCON, MERCON V and MERCON LV. Approximate dry capacity including transmission fluid cooling system, actual refill capacities will vary based on vehicle application and transmission fluid cooling system. The amount of transmission fluid and fluid level should be set by the indication on the dipstick's normal operating range.

Automatic Transmission Fluid MERCON ULV

Use Shift Restore as a preventative maintenance product or to solve existing issues with the transmission.

MERCON, MERCON LV and MERCON ULV are not interchangeable. DO NOT mix MERCON, MERCON LV and MERCON ULV. Approximate dry capacity including transmission fluid cooling system, actual refill capacities will vary based on vehicle application and transmission fluid cooling system. The amount of transmission fluid and fluid level should be set by the indication on the dipstick's normal operating range.

Fill to line on reservoir.

F250 Super Duty,F350 Super Duty Front

150,000 miles; 50,000 miles under severe duty

75W-90 S9 Premium Rear Axle Gear Oil

F250 Super Duty,F350 Super Duty

150,000 miles; 50,000 miles under severe duty

SAE 75W-140 Synthetic Rear Axle Gear Oil

Recommended: BLUE DIAMOND SEVERE DUTY GEAR OIL 85W-140 S14

FORD design rear axles contain a synthetic lubricant that does not require changing unless the axle has been submerged in water. Add 8 oz. of Additive Friction Modifier XL-3 or equivalent meeting FORD Specification: (EST-M2C118-A) for a complete refill of Limited Slip Axles.

F250 Super Duty,F350 Super Duty

100,000 miles; 50,000 miles under severe duty

SAE 75W-90 Synthetic Rear Axle Gear Oil

F250 Super Duty, F350 Super Duty

100,000 miles under normal conditions - 50,000 miles under severe duty conditions

SAE 85W-140 Synthetic Rear Axle Gear Oil

F250 Super Duty,F350 Super Duty,6.7L Eng

Initial flush at 105,000 miles/6 years followed by 45,000 miles/3-year

150,000 MILE HEAVY DUTY EXTENDED LIFE YELLOW

MOTORCRAFT Automatic Transmission Fluid MERCON LV

150,000 miles; 60,000 miles under severe duty

MERCON LV Transmission Fluid

F250 Super Duty,F350 Super Duty
Buying Oil for Your Ford? Consider This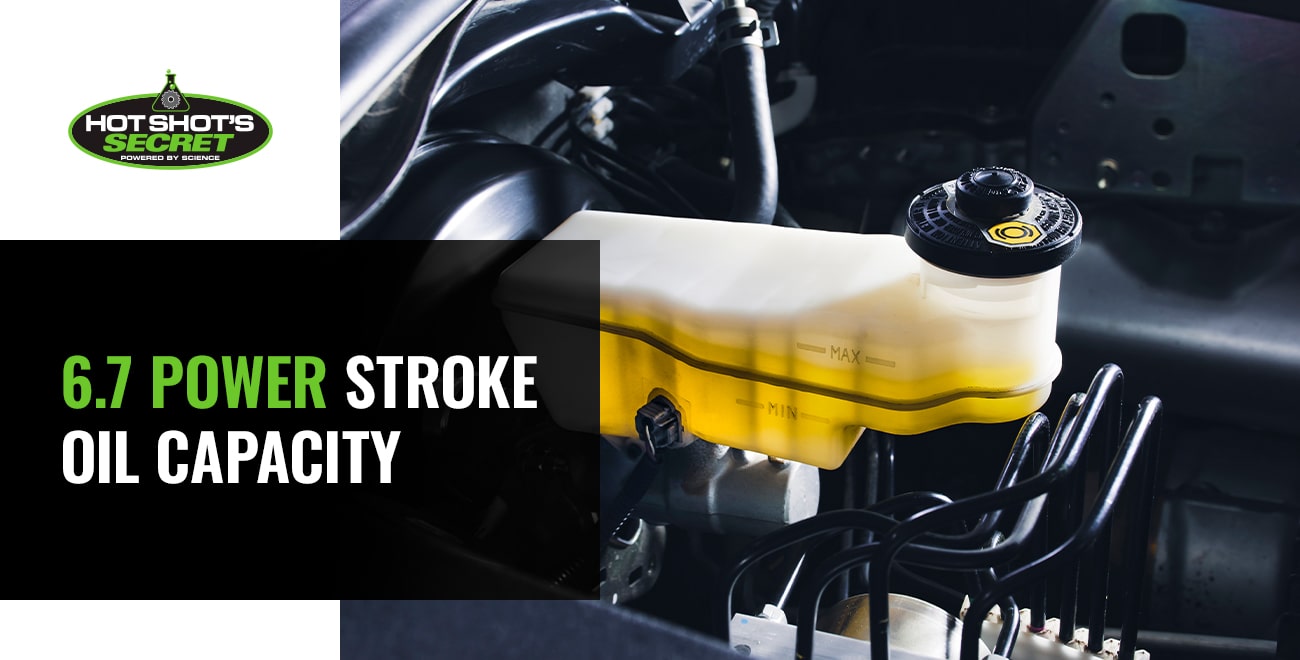 The Ford Motor Company unveiled its Power Stroke diesel engine series in 1994 as part of a rebranding initiative for engines previously produced by Navistar International. Ford installed the Power Stroke in many of its popular truck models, including the E-Series, F-Series, Excursion and LCF commercial vehicles. 
The engine retained the Navistar name until 2011 when Ford introduced the 6.7L Power Stroke V8. Over the past decade, the 6.7L has competed successfully against diesel engines manufactured by Cummins and Duramax. 
Some of the key 6.7L Power Stroke specifications include:
Diesel particulate filters (DPF), a device that traps ash, soot and other debris that can inhibit engine performance and cause damage.
OHV 4-valve design that produces higher revolutions and generates more power.
A GT32 SST single sequential turbocharger and a GT37 on the 2015-2016 models.
High-pressure common-rail fuel injection system for more efficient fuel delivery.
Oil Change Interval & Capacity
What Is the Ford 6.7 Power Stroke Oil Capacity?
As a larger truck engine, the Ford 6.7 diesel oil capacity is higher than smaller models. Starting with products manufactured in 2011, it takes 13 quarts, with filter, for a complete refill. 
Other fluid requirements include:
Automatic transmission: 16.7-17.4 quarts for the 2011-2016 models and 17.4 or 18.1 quarts for 2017-2020.
Transfer case: 2 quarts for the 2011-2016 models and 1.9-2 quarts for 2017-2020.
Coolant: 29.4-30.3 quarts for the 2011-2016 models and 31.7 -35.1 quarts for 2017-2020.
Front differential: 3 quarts for the 2011-2016 models and 2.7-2.75 quarts for 2017-2020.
Rear differential: 3.5-7 quarts for the 2011-2016 models and 3.1-3.78 quarts for 2017-2020.
Diesel exhaust fluid (DEF): 5-6 gallons for the 2011-2016 models and 7.2-7.4 gallons for 2017-2020.
Fuel tank capacity: 26-68 gallons for the 2011-2016 models.
A best practice is to take the vehicle for a short drive after refilling, then check to ensure the fluids remain at adequate levels. 
How Often Should You Change 6.7 Power Stroke Oil?
Timely oil changes may be the most essential Ford 6.7L maintenance step. Fresh oil keeps the engine running smoothly and extends its life. It also improves your fuel mileage and maximizes the engine's long-term performance. 
If you own a truck equipped with a 2011-2022 6.7L Power Stroke engine, you should change the oil and filter every 10,000 miles under regular driving conditions. If you place higher demands on your vehicle, like frequent stopping and starting, lots of short trips, dirty environments, towing other vehicles or driving in mountainous regions, change the oil every 5,000-7,500 miles. 
An oil analysis is an accurate way to determine oil health, oil contamination and machine wear. It is a valuable preventative maintenance tool that can help identify potential problems before a major repair is necessary, while also potentially reducing the frequencies of oil changes.
Ford 6.7L Maintenance
Ford 6.7L Maintenance
Regular maintenance is crucial for ensuring your 6.7L Power Stroke delivers peak performance. Timely service also reduces the risk of breakdowns and maximizes the engine's life span. 
Implement the following maintenance steps to keep the engine in peak operating condition: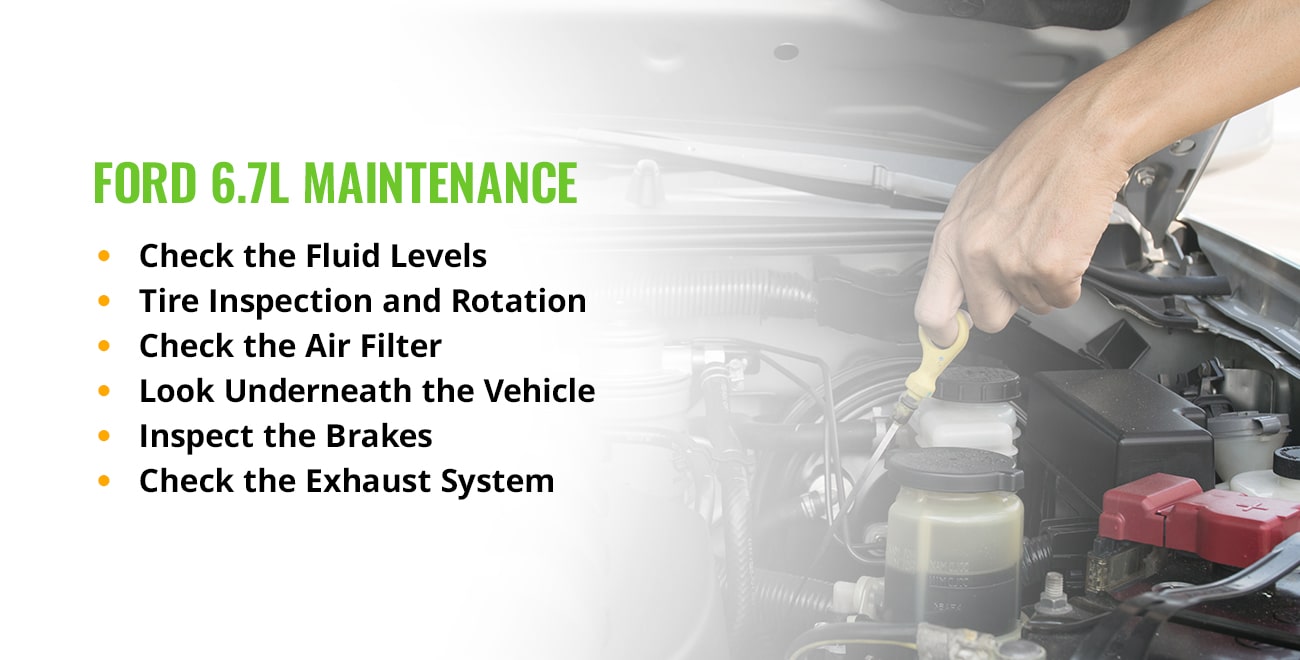 1. Check the Fluid Levels
Operating your truck with insufficient oil, coolant and other essential fluids can cause significant damage and lead to your engine's premature demise. Ensure you maintain the recommended fluid levels and refill them if necessary before putting your vehicle back on the road. 
2. Tire Inspection and Rotation
Check the tires before each trip to ensure they're properly inflated and free of defects. You should also rotate the tires at the interval recommended by the manufacturer and more frequently in heavy-use conditions. Inspect the wheels for defects or unusual noises that can indicate a malfunction.
3. Check the Air Filter
Your Ford truck should have a gauge installed on the air filter that measures air filter restriction based on inches of water vacuum. The readings indicate when it's time to replace the filter. A clean air filter prevents dirt, dust and other airborne contaminants from entering the engine and causing severe damage. You also won't need to rely on a visual filter inspection that often yields inaccurate results. 
4. Look Underneath the Vehicle
Check the vehicle's underside, especially at the engine compartment, after parking it for several hours or overnight to spot potential fluid leaks. If you notice pools of oil or other fluids, take your truck for service immediately to determine the source. 
5. Inspect the Brakes
While you may wait until your state-mandated vehicle inspection process to check the condition of your Ford truck's brakes, this vital component could fail beforehand, especially during frequent use or demanding driving conditions. You may want to check the brakes sooner, including the pads, linings and rotors, to avoid a potentially dangerous driving situation. 
6. Check the Exhaust System
An improperly functioning exhaust system can negatively impact your 6.7L Power Stroke engine's performance and reduce fuel efficiency. If you smell exhaust fumes, hear unusual noises coming from underneath your truck or experience a power loss, it could be time for a comprehensive system inspection. 
Best Powerstroke Synthetic Oil
What to Consider When Choosing the Best Synthetic Oil for a 6.7 Power Stroke
Ford trucks equipped with 6.7L Power Stroke engines often perform in high-demand applications that generate extreme heat. Therefore, it's imperative to select a motor oil that's up to the challenge. Factors to consider when making your choice include:
Compatibility: Most 6.7L diesel engines include modern emissions systems. Select an oil that complies with DPF, SCR, DOC and EGR requirements.
Protection: Ensure the oil provides sufficient protection by choosing one designed for diesel engines that meets Ford WSS-M2C171-F1 and other applicable specifications and guidelines.
Cleaning performance: Check if the oil contains additives that combat oil oxidation, sludge formation, and other common engine issues.
Viscosity: Choose an oil with a 10W-30 viscosity rating for normal driving conditions or a 15W-40 in extreme conditions. If biodiesel fuel blends (B20 max)
are used the use of 5W-40 or 15W-40 oil is recommended.
Fuel and vehicle economy: Using high-quality 6.7 Power Stroke oil reduces wear on the engine's moving parts and improves fuel mileage.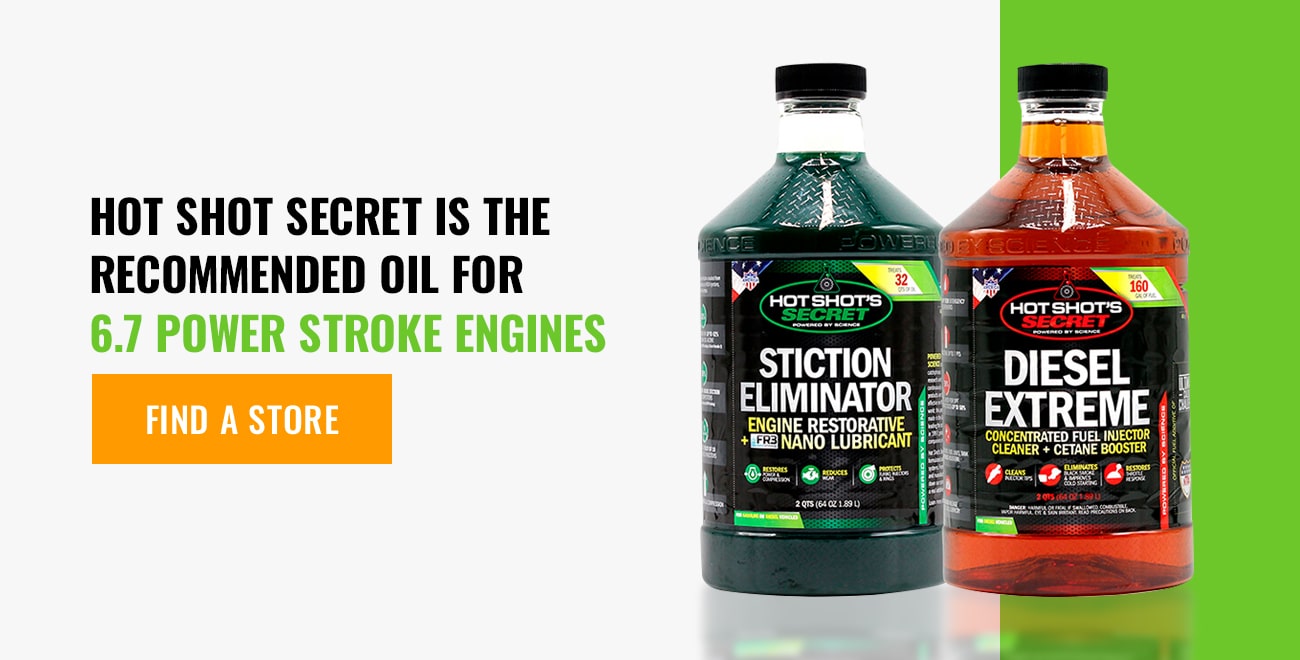 Hot Shot's Secret Is the Recommended Oil for 6.7 Power Stroke Engines
If you're looking for the best synthetic oil for a Ford 6.7 diesel engine, you've come to the right place. Hot Shot's Secret is your one-stop headquarters for high-performing oil that will meet your production and protection requirements. We recommend Stiction Eliminator and Diesel Extreme, a dynamic diesel duo that will maximize your diesel engine's performance and life span.
We also offer a wide assortment of fuel additives for diesel engines to take the performance to a higher level. These superior products will keep your engine cleaner and result in lower emissions. You'll also experience smoother starts and faster acceleration. And with the increased fuel efficiency our additives provide, you'll be able to reduce your diesel costs. 
Contact Hot Shot's Secret today to learn more about 6.7 Power Stroke oil capacity and how our products can optimize diesel engine performance. 
The contents of HotShotsSecret.com, such as text, graphics, images, and other material contained on the Diagnose Your Diesel section are for informational purposes only. Always seek the advice of your mechanic or other qualified professional with any questions you may have regarding your vehicle's condition.