Boosts cetane by 7 points
Reduces DPF regeneration cycles up to 83%
Increases fuel mileage up to 7.3% and power by up to 12.5%
Cleans cylinders, fuel tank, lines and injector tips
Removes internal diesel injector deposits (IDIDs) formed by carboxylate salts and waxy soap deposits and EDID's carbon coking deposits
2 quarts treat 160 gallons of diesel fuel
1 quart treats 80 gallons of diesel fuel
16 oz treats 40 gallons of diesel fuel.
Recommended for ALL diesel engines. NOT for use in gasoline vehicles.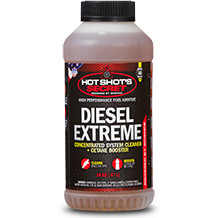 Benefits:
Hot Shot's Secret Diesel Extreme is a premium 6-in-1 diesel additive, containing the most concentrated detergent formula on the market. Diesel Extreme is formulated to resolve issues related to Ultra-Low Sulfur Diesel and greatly improve your truck's performance and fuel economy.
Engineered with specific detergents, Diesel Extreme will safely remove and prevent Internal Diesel Injector Deposits (IDIDs), External Diesel Injector Deposits (EDID's) and other forms of varnish and deposits that cause scaring and wear, which leads to premature failure of fuel system components, including fuel pumps and injectors. Diesel Extreme also includes a powerful cetane improver, improving your diesel fuel's cetane rating by seven points, to improve combustibility, horsepower and fuel economy. By improving combustibility, Diesel Extreme reduces the number of diesel particulate filter (DPF) regeneration cycles that are needed. Diesel Extreme also contains a lubricity enhancer to further reduce wear, a water dispersant, rust and corrosion inhibitors and a fuel stabilizer.
Diesel Extreme will improve your diesel's fuel economy, increase horsepower, clean injectors, improves cold starts, eliminate excessive black smoke and improve reliability. It is recommended for use in all diesel engines.
This product is safe for all emissions equipment.