September 7, 2021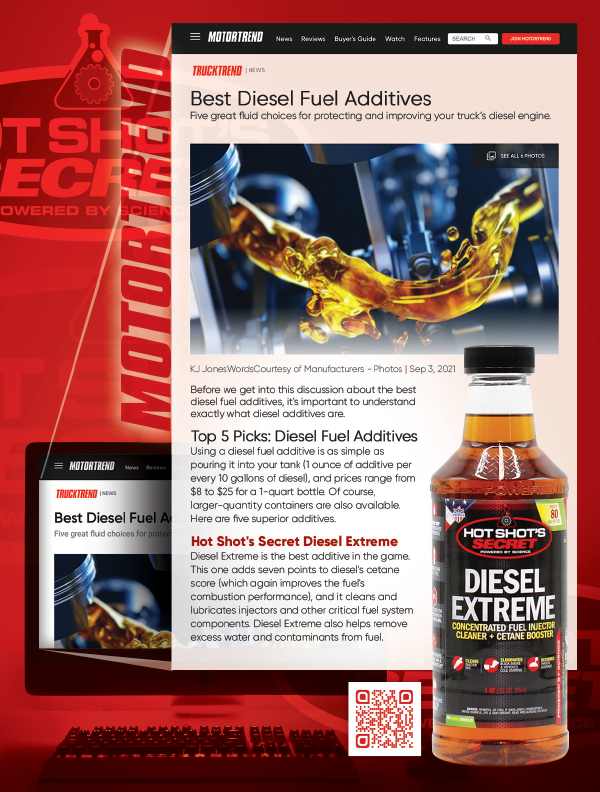 Mt. Gilead, OH, (September 23, 2021) – Hot Shot's Secret, the fastest growing performance lubricant brand in the USA, proudly reports that Diesel Extreme, was recently cited by TruckTrend on MotorTrend.com as the best diesel fuel additive for its ability to clean, lubricate, boost cetane 7 points; all while removing excess water and contaminants.
Editor K.J. Jones says, ""Diesel Extreme is the best additive in the game. This one adds seven points to diesel's cetane score (which again improves the fuel's combustion performance), and it cleans and lubricates injectors and other critical fuel system components. Diesel Extreme also helps remove excess water and contaminants from fuel." To read the full TruckTrend article, visit here.
Developed by Lubrication Specialties Inc. to resolve issues common to Ultra Low Sulfur Diesel Fuel (ULSD) fuel found at most service stations, Diesel Extreme is a concentrated six-in-one formula that improves combustion, horsepower and fuel economy. 
Unlike competitors, Diesel Extreme adds a boost of seven points to a fuel's cetane score improving fuel mileage up to 5% in steady state 55 mph tests. This is four times better than leading brands. Exceeding top tier detergency requirements, Diesel Extreme removes all internal diesel injector deposits, the waxy and polymeric deposits that reduce power.
It is formulated to:
Quickly and effectively clean and lubricate injector tips and other critical fuel system components.
Prevent Internal Diesel Injector Deposits (IDIDs), External Diesel Injector Deposits (EDID's) and other forms of varnish and deposits that cause scarring and wear to build up; all of which can lead to premature fuel system failure.
As a six-in-one additive, it also includes a lubricity enhancer to reduce wear, a water dispersant, rust and corrosion inhibitors and a fuel stabilizer.
Instead of using multiple additives, Diesel Extreme alone can improve throttle response, eliminate black smoke, improve cold starting and improve fuel mileage, especially for aging diesels.
Improved combustion also reduces the number of diesel particulate filter (DPF) regeneration cycles needed.
The recommended treatment for Hot Shot's Secret's concentrated fuel injector cleaner and cetane booster all is four ounces to every 10 gallons every six months, or one treatment every 6,000 miles. Diesel Extreme is safe for all diesel-powered vehicles including and not limited to Ford Powerstroke, Dodge Cummins, GM Duramax, Saab, Volkswagen and Audi as well as other popular brands.
For more information about Hot Shot's Secret oil additives, fuel additives and specialty oils, visit HotShotSecret.com. To speak directly with one of Hot Shot's Secret highly qualified technicians, call toll free 800-341-6516. Keep up with the latest Hot Shot's Secret company and product news on Facebook and Instagram, or by following #hotshotsecret.