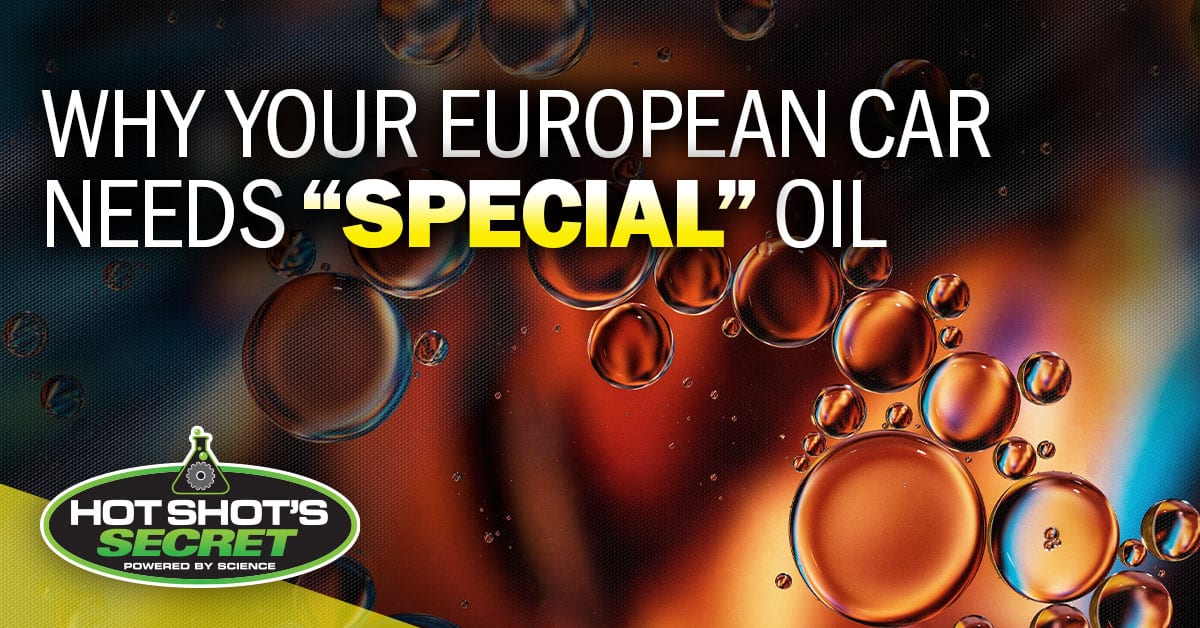 March 13, 2022
Have you ever wondered why your Jaguar, Mercedes Benz, BMW, Audi, or Volvo needs a special kind of engine oil? It goes beyond just their good looks and elegant style; the reason is valid. Unlike why your European Trophy Wife needs that Gucci Purse. Many European cars had some of the most legendary engines, like the Volvo Red Block or the Mercedes AMG M156 V8. Like any European import these engines require some special treatment, we'll explain why below. The answer may be more complex than your original thought, which may have been "This is such a scam". Believe us, the reason is valid, but don't fret, we have a solution. First, we need to think about where these cars are designed, engineered, and mostly manufactured. The EU has much tighter carbon emission standards. Requiring tighter standards and lower SAPS levels to help control emissions. European cars have longer oil intervals compared to their domestic counterparts. Most European models require an oil change every 10,000 miles. Many conventional and synthetic domestic oils will break down between 3,000 and 7,000 miles. A special blend is needed that will last 10,000 miles and meet EU emissions standards. Eventually, those same emissions standards will be standards in the United States, so just think of yourself as getting ahead of the game. It may be a pain to have to find the "Euro blend" but you're making the right choice by not trying to fit a square peg into a round hole. Using engine oil that's not specially designed for your vehicle is like playing with fire, you're only going to damage your engine and rob it of performance in the end. European engines are often turbo charged which further adds to the need of an engine oil that will not only lubricate, but also clean the turbo of deposits. Besides, most the fun of driving a European car is the performance! With taglines like: The Best or Nothing, The Ultimate Driving Machine, Roll Your Life, etc. these vehicles are meant to roar! If you own a Mercedes Benz, BMW, Audi, Jaguar, or Volvo you need to make sure you're using the right engine oil that's designed to meet the standards of your vehicle. Hot Shot's Secret makes an engine oil specifically designed to meet these standards. Gray Diamond European Spec is recommended for gasoline and light-duty diesel automobiles where a mid-SAPS (Sulfated Ash, Phosphorus, Sulfur) oil is required. Hot Shot's Secret Gray Diamond Euro Blend is 100% full synthetic oil using only Group III base oils. This ensures the strict standards and tolerances of European engines are met. Hot Shot's Secret FR3 additive is blended with Gray Diamond Euro Blend Engine Oil, this increases horsepower, reduces heat, protects the turbo charger from deposits, and helps clean the engine of existing deposits. Gray Diamond Engine Oil is available in both 5W-30 and 5W-40. Like any Hot Shot's Secret Product, Gray Diamond Engine Oil was formulated to be the best, with additives and detergents to make sure your engine will be fully protected and see extended engine and turbo life. Hot Shot's Secret Products are truly powered by science.
Trust Your European Engine With Hot Shot's Secret Gray Diamond Euro Oil
Using the correct oil will protect you engine and provide trouble free operation. Find the necessary oil and additives you need to help keep your European vehicle running smoothly at Hot Shot's Secret. Contact us for more information and tips or find what you're looking for in our expansive inventory.