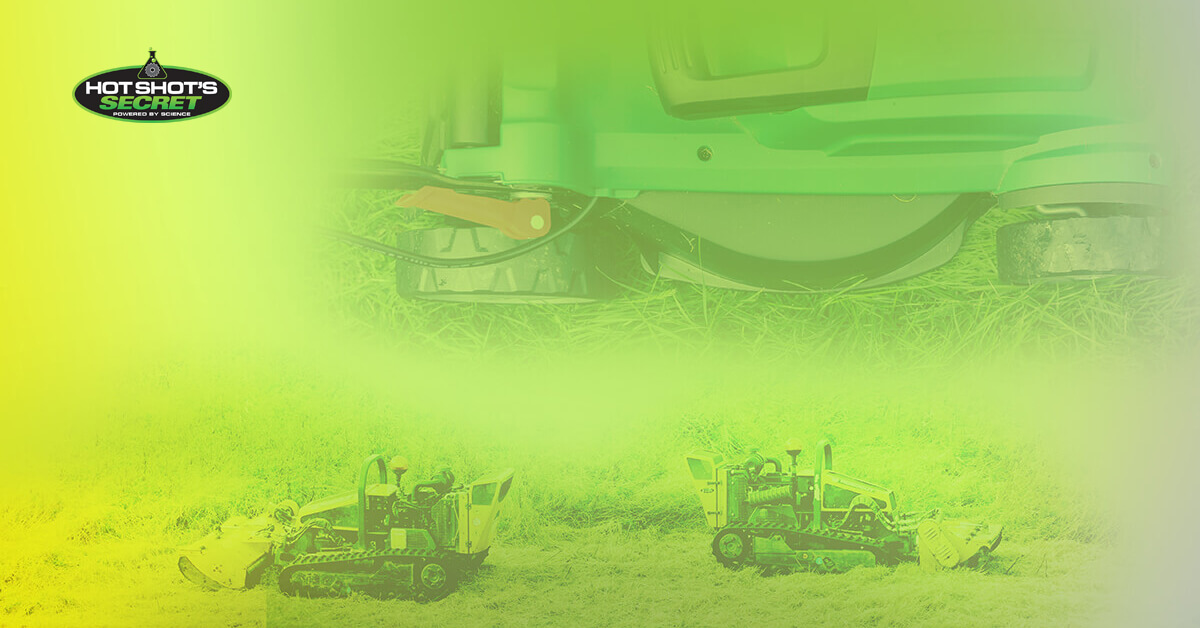 May 15, 2019
Tips for keeping your lawn and garden equipment running great for years to come.
Spring has sprung and with the birds chirping dawn to dusk breaking the silence of winter gone by, so too returns the outdoor chores like mowing the lawn, tilling up the garden and a variety of other outdoor projects.
Much to our advantage, we now have the ability to trade up from rotating spinning blades powered by our legs pushing across the yard, to rotating spinning blades under the deck of our motorized zero-turn lawn mowers. Instead of strapping on the plow to the back of the horse, we can run our motorized tiller to churn up fresh dirt for planting. And with the continued advent of mechanical-powered machinery to ease our strains of manual 'horsepower,' also comes the need to maintain our equipment for prolonged use.
Whether it's the push mower, or the riding mower, whether it's the leaf blower, or the roto-tiller, whether it's the skid steer or the mini excavators barreling across our properties, they all need the proper attention to perform their intended duties. "Maintenance, maintenance, maintenance," says Mike McNutt from Detailed Lawn Care Service (Hubertus, WI). "I have 2050 hours on my zero turns, starting and running great every time, because I have done what is needed."
"Among other things I change out the spark plugs annually. I'll blow out air filters once a week, I change the fuel filters once a year, change oil at 50 hours, hydraulic fluid and filter changes at 100 hours, I sharpen blades at 25 hours. The proper maintenance will keep your gear running a long time. I check my oils every day. A zero turn costs almost the same as a car," chuckles McNutt, "so I try to take care of it all."
Equipment:
With the multitudes of helpful equipment on the market today, below are a few categories and selected items that may be out in the shed, or available in your garage today. A few considerations for operation can help in safety and maintenance:
Lawn Mowers: Whether push, ride and/or zero turn, many of the same Checklist principles apply:
• Remove and clean out any unwanted debris.
• Tighten or replace any loose nuts & bolts.
• Sand, prime and paint rusted parts.
• Replace, cap, wrap or coat any bare or frayed wiring connections.
• Check your spark plugs for proper gap and spark.
• Avoid tipping the mower in a direction where fluids might seep into the air filter and/or into the combustion chamber.
• Drain any stale fuel that may be present after the winter storage, or add fuel stabilizer in the gas tank, before starting.
Hot Shot's Secret Application(s) for Lawn Mowers:
Product: FR3 Friction Reducer
Dose: 1.5 oz per Quart of Oil
Frequency: Every Oil Change
Benefits: Users can gain up to 5% Fuel mileage and horsepower. FR3 Friction Reducer is a lubricity-enhancing oil additive that increases the lubricating and wear reduction properties of the host oil. It increases rubber seal lubrication for less oil leaks and cleans deposits on the rings and pistons, thereby providing a smoother sealing surface for the rings. Lost compression is then restored with better ring seal, less blow-by and increased combustion efficiency.
Product: Gasoline Extreme
Dose: 1.25 oz per Gallon of Gasoline
Frequency: Once a year for moderately used equipment. Twice a year for equipment used over 100 hours.
Benefits: Gasoline Extreme is a deep-clean for fuel injectors, thereby restoring the flow and spray pattern from gummed-up fuel injectors. Intake Valve deposits are cleaned 69% on average, restoring valve seating and volumetric efficiency. A special lubricity additive is included in Gasoline Extreme helping pumps and injectors move freely. All of which add up to more efficient fuel burn and improved gas economy.
"Edgers": Included in the category is also Leaf Blowers and Weed Eaters. Before conducting any maintenance, be sure the power button is in the off position, the gas tank is empty and the spark plug wire is disconnected and pulled away from the cylinder.
• Use a brush with a mix of water and detergent to clean off any grease, dirt and debris.
• Check all screws, bolts and nuts for tightening as needed.
• In a 4-cycle engine, check the oil level and consistency before every use.
• Check string or blades for proper stability and extension.
• Remove and inspect the spark plug for proper gap and spark. If the plug tip is black, replace the spark plug.
• After use for the last time in the season, empty the fuel tank to avoid condensation and fuel breakdown.
Hot Shot's Secret Application(s) for Edgers:
Product: FR3 Friction Reducer
Dose: 1.5 oz per Quart of Oil
Frequency: Every Oil Change
Benefits: FR3 esters provide increased rubber seal lubrication as well as a slight swelling of the seal for less oil leaks and a regain in compression. FR3 provides enhanced protection against engine wear with a patented carbon Nano particle that fills in microscopic irregularities on the machined surface allowing a smoother surface for the lubricating film to form. FR3 components extends the base oil performance in shear stability, oxidation stability, film strength and especially friction reduction.
Chainsaws: For the utmost safety protection and operation, proper use of a chainsaw requires routine inspection and maintenance prior to every start of the motor:
• Ensure the chain brake is functioning properly.
• Check and/or replenish bar and chain oil level before each use.
• Remove debris from the cooling fins and air intake.
• Check the flywheel fins to avoid blockage of air from cooling the engine.
• Sharpen the chain to reduce load on the motor plus help avoid kickbacks.
• When the cutting tooth has been worn down to less than 4 mm, replace the chain.
• Clean debris from the saw after each use.
Hot Shot's Secret Application(s) for Chainsaws: (All 2 Cycle engines)
Product: FR3 Friction Reducer
Dose: Pre-mix 1.5 oz. FR3 per Quart of 2-cycle oil, then mix 2-cycle oil blend with gas at usual treat ratio. (1:40, 1:50 per manufacturer's instructions)
Frequency: every tank
Benefits: Wear rates are reduced by 43% (ASTM G-133 test). FR3 engages patented synthetics with unique lubricating properties improving friction reduction over PAO or mPAO synthetics of the same viscosity. Patented FR3 nano particles cross link at the surface, which increases film strength and boundary lubrication, improving shear stability, oxidation stability, film strength and especially friction reduction.
Rules-of-Thumb
Regardless of the types of equipment, similar rules can easily apply across the board for motorized lawn and garden equipment:
Change your oil.
Just as the oil is the lifeblood of the big engines, it also provides the same advantages for the smaller engines as well, requiring the same attention. Without the proper oil change maintenance, lawn equipment also wears out due to increased heat and friction, and lack of lubricity.
Change your filters.
Air Filters allow a cleaner air into the combustion chamber helping with efficiency in the torque and horsepower of the smaller engines as well as a cleaner burn and therefore, exhaust emission into the environment. Oil filters also help extend the lifetime of your small engine components as well. Clogged oil filters cause a backup in fresh oil and flow-through to all of the mechanical parts in friction.
Utilize Additives.
Additives help fill the gaps where some oils and fuels often fall short. Spending just a couple extra dollars on additives maintenance will go a long way in adding more lifespan to engines and motorized equipment. Additives help increase lubricity, fuel burn and heat transfer in any engine. Applying the same benefits to lawn and garden engines and moving parts can help avoid costly equipment repairs and replacements. Additives such as Hot Shot's Secret Gasoline Extreme and FR3 Friction Reducer can help increase fuel mileage and horsepower, deep-clean and remove corrosives, improve compression and reduce oil leaks, reduce friction, heat and wear on tear on engine components, and extends the base performance in shear stability, oxidation stability, film strength and especially friction reduction in standard motor oils.
Sharpen Your Blades.
It's easy to miss this step because we take for granted that our blades will cut through their intended materials. Not always the case though, we tend to forget what we don't see and our engines work harder when the blades are not adequately serving their purpose. Sharpened blade helps not only get through the task more efficiently, but also saves unneeded stress on the power-plant, thereby requiring less exertion to maintain.
And don't forget
…not only does the lawn and garden equipment in the field require maintenance, but also the hauler trucks to get all of that gear to the site. ""I have the dreaded 6.0 Power Stroke, and I've had the typical problems with my injectors. I use it to pull all my trailers and load down the truck bed with equipment. Using the Hot Shot's Secret Diesel Extreme, Everyday Diesel Treatment and the Stiction Eliminator has helped my truck run better than ever," says McNutt.
Conclusion:
With the gasoline, electrical, battery-powered and diesel driven power of modern lawn and garden equipment, large to small, all consist of a variety of moving parts, fuel mixtures and the need for additives and lubrication. Just like any other motorized vehicle, maintenance is the key to the success of your investment.
Testimonial:

"I believe in Hot Shot's Secret. I was in for some injector repairs and the garage recommended HSS. I went online and checked them out and everything looked good. I actually called for more questions. They promised me the 100% money back guarantee and gave me all the details. And when I made the purchases, they asked me for my phone number.

A month or two later they actually called to ask how my truck was running. To me, that stands out. Nobody really cares after the sale. And they reiterated that if I still wasn't happy, to send in the receipt. To me, that makes a big difference.

Not only did it help my injectors, I noticed I picked up a couple miles per gallon using their products.

They even sent me a bottle of FR3 friction reducer to try out as well. I loved it."