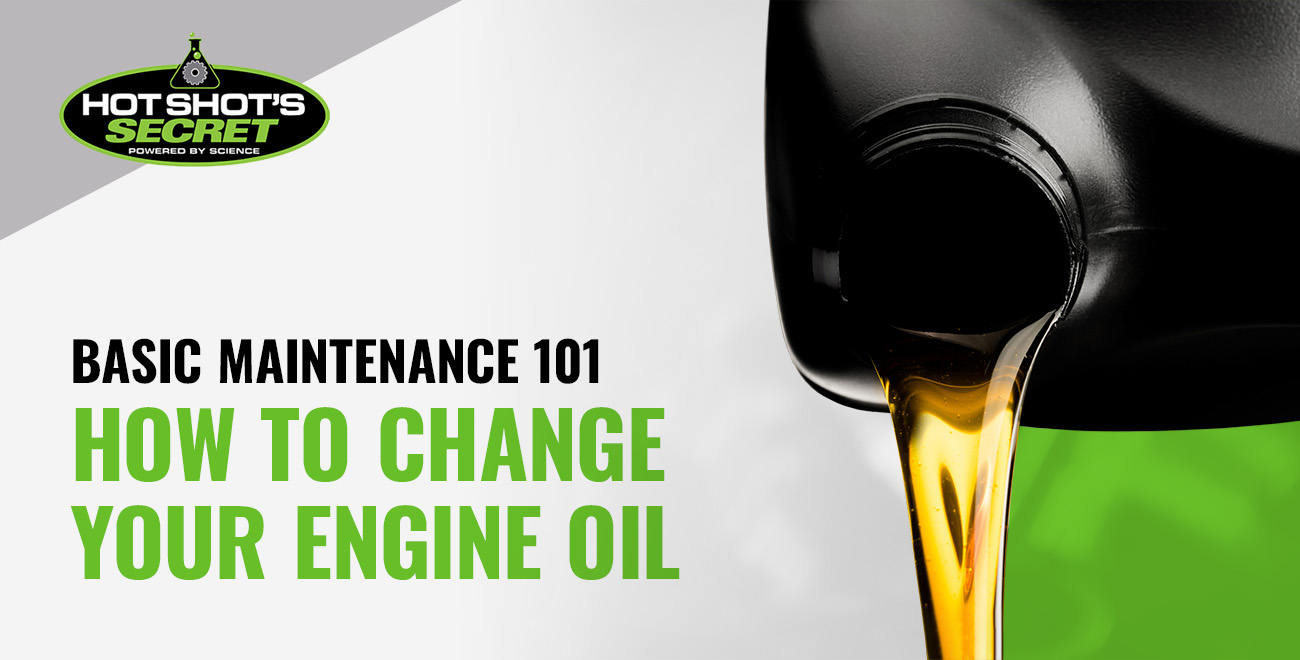 January 3, 2022
BASIC MAINTENANCE 101: HOW TO CHANGE YOUR ENGINE OIL
Changing your engine oil is a crucial part of maintaining your vehicle and ensuring it has the resources to run smoothly. Without proper maintenance and regular oil changes, your vehicle's life will be cut drastically short. Learn how often to change diesel and petroleum oil to keep your vehicle running efficiently. 
Our video shows how to change your engine oil on a 2018 Ram 2500 with a 6.7L Cummins engine:
How Does a Diesel Oil Change Differ From a Regular Oil Change?
Diesel oil changes and regular oil changes are mostly similar. The processes are essentially the same, though the oil used in each case will vary. The biggest differences are the oil change intervals and the cost for each, which we'll cover below.
How Often Should You Get Your Diesel Oil Changed?
How often your oil needs to be changed can be affected by a couple of factors, including the climate you drive in, what you use your vehicle for and what type of oil you use. On average, typical diesel oil can run for 7,000-10,000 miles before it needs to be changed. However, there are instances when you may need to change the oil sooner or later than that. 
For example, if you often drive short distances at low speeds or in cooler climate conditions, you may need to get your oil changed more often. When your engine stays at low temperatures and speeds, particles and contaminants build up more quickly. If you frequently drive at highway speeds or in a warm climate, your oil may last longer. 
Other factors that can affect the frequency of your oil changes are how often you tow with your vehicle and what type of oil is used in your engine. Typically, the more often you use your vehicle to tow, the more often you'll need an oil change. Additionally, if you use a synthetic oil blend or full synthetic oil, you can drive farther without an oil change than when you use conventional oil.
How Much Does a Diesel Oil Change Cost?
Because diesel products cost more than traditional oil and gas products, a diesel oil change will have a higher cost. An oil change for a gas-powered vehicle usually costs around $20-$30. In comparison, diesel oil changes can cost anywhere between $50-$90. The price heavily depends on where you take your vehicle for an oil change. For example, chain lube stations typically charge on the lower end of the price range while individual mechanics often charge more, though individual mechanics often do better work.
Should You Get It Done or Do It Yourself?
When the time comes for an oil change, you ultimately have two options: take your vehicle to a service shop and have it done or do the oil change yourself. Many people choose to have a professional mechanic change their oil, most often because it's convenient and they can also have other aspects of their vehicle checked at the same time. However, taking the do-it-yourself route can save you some money if you're willing to put in the time and work necessary to do the job correctly.
For some people, the hassle and risks of doing a DIY oil change are enough to send them to the mechanic. While visiting a mechanic may be more expensive, it's much easier to let someone else handle the dirty work. For those who lack the time or knowledge to change their own oil, going to the shop is the best option. But if you're looking to save some money and get closer to your car, DIY oil changes may be for you!
How to DIY Your Diesel Oil Change
Want to learn how to change your oil in a diesel truck or car? The process typically takes less than an hour or an average of 30 minutes and can save you between $25-$75 dollars after buying any necessary materials.
Necessary tools and materials include the following:
Wrench — either a socket or box end
Funnel
Jack and jack stands, depending on your ground clearance
Oil
Oil drain pan
Oil filter
Oil filter wrench
Rags
Latex gloves
Steps for changing your oil: 
 
Check what type of oil your vehicle needs and determine how much you'll require.
Gather all your supplies.
Get your vehicle ready. Warm the engine to get oil flowing, but not for too long to avoid it getting too hot.
Raise the vehicle if needed. Make sure you install proper safety stands.
Once you're under the vehicle, find your oil filter and drain plug.
Remove the drain plug and completely drain your vehicle's existing oil.
Put the drain plug back in place, checking the manual for tightness specification.
Remove the old filter's O-ring and replace the oil filter with the new one.
Fill the oil reserve with the new oil. Are you adding Stiction Eliminator or FR3?
Check your vehicle's oil level and start the engine.
Check for leaks at the filter and drain plug.
Run the engine for a few minutes, then shut it off and check the oil level.
WHY SHOULD YOU CHANGE YOUR OIL YOURSELF?
Many people who enjoy DIY vehicle maintenance consider at-home oil changes to be a basic task. With just a few tools, you'll surely save some money and can avoid going out in public with the current pandemic situation. Pro-tip: order your supplies online.
Plus, changing your own oil can help you feel connected with your vehicle and give you control over its maintenance. You'll be able to tell if anything else needs maintenance and take care of it right away.
Want to do even more maintenance tasks at home? Check out our Do-It-Yourself video series on Ford 6.7L Powerstroke, Ram 6.7L Cummins and Chevy 6.6L Duramax for all of your basic maintenance needs. More videos and vehicles are being added to the library daily.
Our video shows how to change your engine oil on a 2018 Ram 2500 with a 6.7L Cummins engine:
CHECK THE TYPE AND AMOUNT OF OIL NEEDED
Before buying any supplies, check your vehicle's owner's manual so you know the exact type and amount of oil your vehicle needs. You can also find the amount of oil necessary for many popular diesel engines on the Fluid Capacity pages of the Diagnose your Diesel section of the Hot Shot's Secret website.
The oil's viscosity should match your engine. Consult with your manual again to check for other specific manufacturer oil requirements. Choosing the right oil for your engine can be tough. If in doubt, call on our Diesel Experts here at Hot Shot's Secret on our toll-free line at 1-800-341-6516.
Hot Shot's Secret offers a great line of engine oils for various applications; from the everyday driver to 3500 horsepower performance diesels. Hot Shot's Secret engine oils are infused with patented FR3 technology, giving you up to 43% reduced engine wear and up to 5% horsepower and fuel economy gains.
Our Green Diamond oil was created to withstand harsh operating conditions so your engine can handle heavy loads, stop-and-go traffic and smooth operation in areas prone to airborne particulates. Our products offer high protection levels at a great value in both Full-Synthetic types using 100% Group III oils or Semi-Synthetic offerings. Green Diamond is formulated to provide high detergency, exceptional oxidation and thermal stability for your vehicles. These characteristics of Green Diamond Fleet Oil help prevent deposits and oil breakdown while extending drain intervals. 
Green Diamond exceeds the specifications for API CK-4 and meets Ford's wear protection specifications. Meeting and exceeding these standards is not something that all specification oils can do, making Green Diamond the ideal oil for your vehicle.
Hot Shot's Secret Blue Diamond PAO oil is "the" next level protection from a motor oil. It's made of 100% pure synthetic using only Group IV and Group V base oils. A true PAO oil stands in a category of its own above all other synthetic formulas. Blue Diamond blends are made of pure poly-alpha olefin (PAO) oils that require small amounts of viscosity improvers to meet certain weight specifications. Viscosity improvers shear over time, which reduces viscosity and can potentially damage your engine. 
PAOs are shear stable and resist oxidation, helping to keep your oil cleaner for longer intervals of time and improving your horsepower and mileage. With proper filtration and monitoring, your vehicle can be driven up to 100,000 miles.
HOW THE PROPER ADDITIVES HELP
FR3 Friction Reducer is an oil additive that increases lubrication and reduces wear on the oil. This friction reducer is made with unique patented synthetic lubricants. Negatively charged synthetic esters strongly attach to the engine's internal parts to completely lubricate your engine. The esters also increase the rubber seal's lubrication and swell the seal to prevent oil leaks. 
The anti-wear component helps to fill in microscopic irregularities to provide a smoother machine surface for the lubricating film. FR3 can reduce wear rates by 43%. The particles chemically bond on the surface, increasing lubrication and strength. The components in the FR3 friction reducer help extend your oil's stability, performance, film strength and, most importantly, friction reduction. 
When deposits are cleaned from the rings and pistons, lost compression can be regained. This can also provide a smoother ring seal, which results in more effective ring sealing, less blow-by and increased combustion efficiency. Friction reduction also helps lower operating temperatures and improves your oil's oxidative stability to ensure long engine life.
Stiction Eliminator is a synthetic cleaner that safely and effectively dissolves stiction found on engine components that have become coated in oil. The synthetic ester in the eliminator helps regenerate deposits and additives in the solution. This process helps reduce friction and lubricates your oil system. 
The Hot Shot's Secret Stiction Eliminator helps restore injectors to factory specifications. Additionally, the eliminator helps restore injector oil flow, correct injector timing and improve spray pattern and fuel flow to revitalize the engine and get it back to peak performance. 
Stiction and gunk can form on various other engine components. Similar to how Stiction Eliminator works on the injectors, the same restoration and cleaning qualities apply to several other engine components. While it helps clean the stiction and gunk, the eliminator also lubricates any engine components the oil touches. For example, turbocharger bearings are known to fall victim to stiction buildup. Stiction Eliminator removes the stiction to help reduce the turbo's spool time and build RPM boosts more quickly.
This inexpensive preventative additive can help you resolve and avoid future stiction. Hot Shot's Secret Stiction Eliminator is meant to last as long as your oil cycles. Whether you're looking for a solution for existing stiction or need a preventative, our Stiction Eliminator will clear your engine and keep it clean.
Buy Oil Additives and Oil Change Materials From Hot Shot's Secret
At Hot Shot's Secret, we're dedicated to helping you fix your engine problems and improving your life. Engine repairs can be costly, so take care of your engine with our products. Contact our highly experienced team with any questions or to get more information on any of our products.