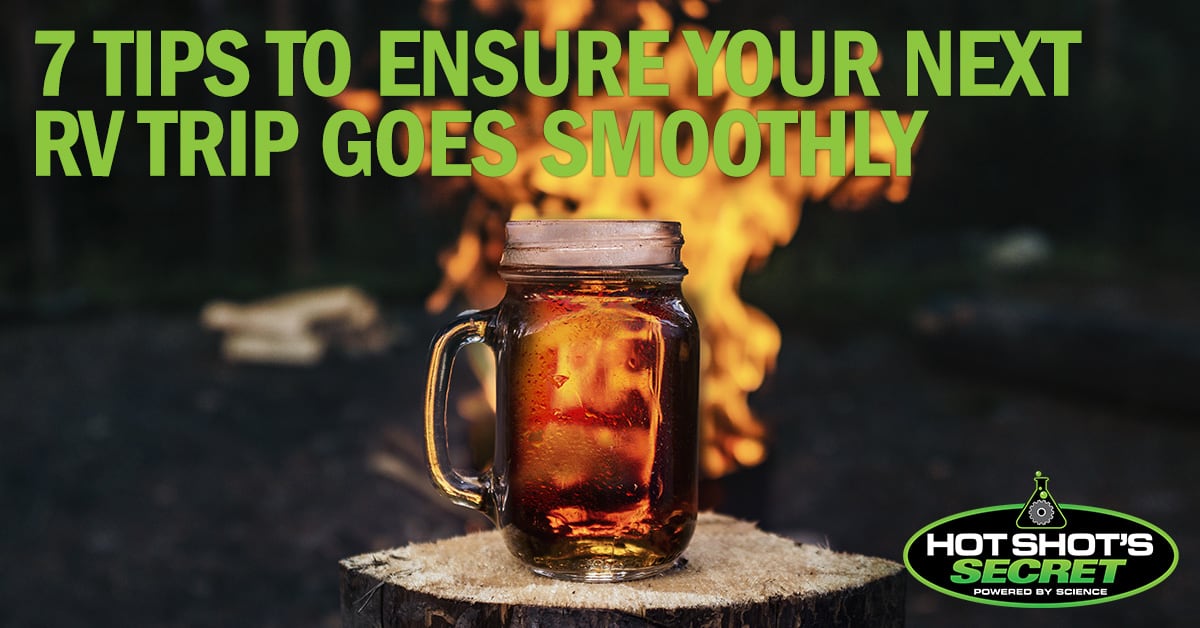 April 30, 2021
Traveling in an RV is often the best way to enjoy a road trip style vacation. It allows you have the comforts of home while on the go. RVing is the best way to travel as a family and bring along pets too. Here are 7 tips to ensure that your next RV trip goes smoothly.
Tip 1: Drive a Reasonable Amount Per Day
Don't assume you'll be driving non-stop for hours. You want to enjoy your trip. Plan your trip so that you stop every hour or two. This isn't just a good time to top off the gas tank, be sure to check the tires and walk around to stretch your legs. Plan to travel no more than 400 miles per day, this ensures you can enjoy the journey.
Tip 2: Do a Pre-Trip Inspection
When it comes to your home on wheels, you shouldn't just grab the keys and go. Instead, take some time to complete a pre-trip inspection and have a trouble-free trip. Read our blog on 10 STEPS FOR PREPPING YOUR RV THIS SPRING for an in-depth account of what to look for and maintenance tip videos too.
Hot Shot's Secret offers full line of products just for your RV, to keep you rolling down the road including a Slide-Out Lubricant, RV Diesel Additive and RV Gas Additive. They add reliability and fuel economy to your RV for a trouble-free journey.
Tip 3: Make A Checklist
Before turning over the key and hitting the gas make a list of items to check both for your camper and at home. Did you remember to purchase toilet paper? Locked the house doors? Take the time to make a list and actually check each item off before driving off. You will feel more relaxed knowing that you have taken the steps for a trouble-free trip.
Tip 4: Plan to Arrive Mid-Afternoon
Plan your trip to arrive at the campsite or destination mid-afternoon. Ideally, you'll arrive an hour or two before dinner. This has several advantages. You will be able to park and settle in for the evening before dinner. Allowing for fun after dinner activities including playing games and exploring the campground and the surrounding area. Also you don't have to worry about setting up camp in the dark.
Tip 5: Plan a Route with Realistic Timing
A well-planned route that doesn't require you to rush from point A to point B. Have the flexibility to experience a new place during the journey. This is the beautiful part about driving on vacation, give yourself flexible time.
Be realistic when planning your schedule, you will be more relaxed and be able to enjoy the time with your loved ones. Give yourself extra time to set up camp and pack up each day before heading to the next destination. Keep in mind that truckers have 11 hours of drive time available per day and 600 miles is a good day for them. Plan for a maximum of 400 miles.
Tip 6: Pack Snacks and Meals
No one is happy when they are hungry. Pack a wide selection of shelf-stable snacks as well as full meals. This has several benefits.
First, you won't be forced to hunt for a grocery store or restaurant in unfamiliar locations. While it is nice to eat out, if more than a weekend trip, this too can get old.
Second, you can save money. You don't have to eat out constantly if you have shelf-stable meals and snacks to eat instead. Do as much prep as possible before leaving home, then it is simple to put together at the campsite.
You'll also enjoy schedule flexibility. If you want to spend an extra few hours at a location, you can eat in the RV instead of having to hit the road to find food.
Tip 7: Don't Forget the Creature Comforts
Your RV is your home away from home, pack the items that bring you the most comfort. Grab your favorite pillow or blanket, pack board games and cards for entertainment and if you have pets, bring their favorite toy along too.
Summary
Follow these tips to minimize the problems that arise when traveling in an RV, and you'll maximize the enjoyment for you and your family. All it takes is a little RV care and proactive planning to nearly guarantee a wonderful time on your next RV trip.