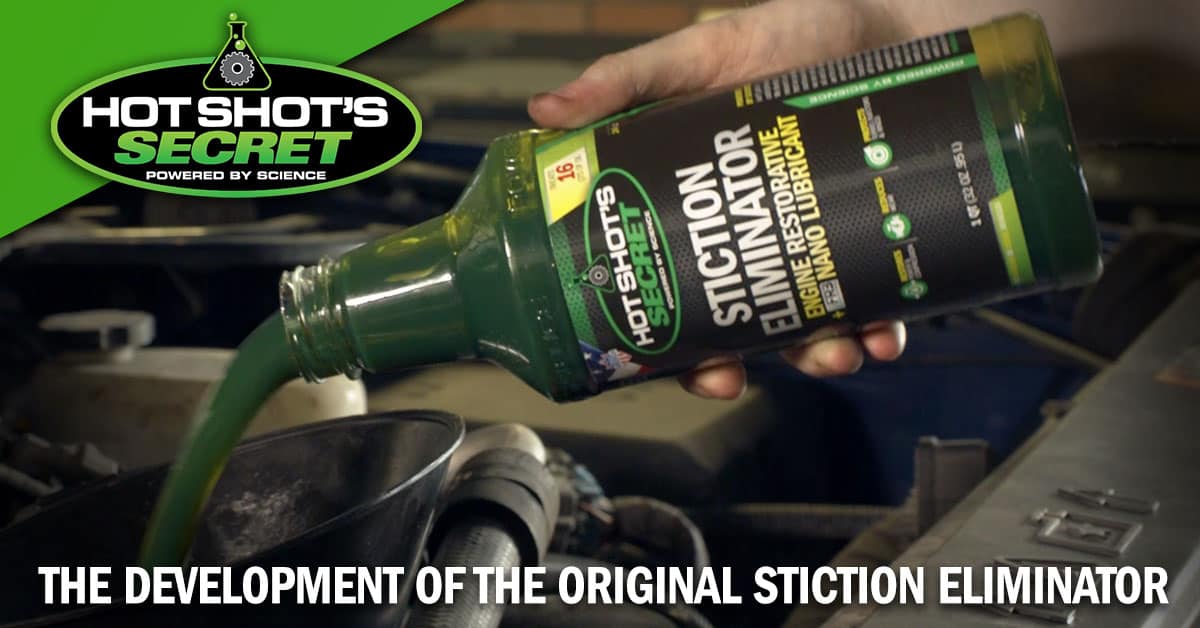 September 28, 2021
How the Original Stiction Eliminator Was Developed
When there's a problem with something, the natural reaction is to find a way to fix it. However, when you are one of the largest engine manufacturers in the world and you come across a problem with a motor that has already penetrated the industry, you better act fast in discovering a solution, or there will be a huge price to pay. That is exactly the situation International Truck and Engine found themselves in nearly 20 years ago with its HEUI injector system. Luckily for them, they knew a guy; Chris Gabrelcik. At the time, Chris was becoming known in the industrial world solving lubrication issues and cost saving measures in factories. With his extensive background in Tribology, holding the designations of both Certified Lubrication Specialist (CLS) and Certified Oil Monitoring Analyst (OMA), one of the few people worldwide, Chris was one of the few who actually understood exactly what was needed.
You can imagine the amount of trial and error Chris endured throughout his development process in attempting to solve such an astronomical problem. What they knew at the time, was that the internal components of the HEUI injectors used in the Ford 6.0L Powerstroke were seizing up due to the burnt oil/varnish building over time, causing the injector to "fail". After three years of back and forth, he finally found the solution, the perfectly blended additive that not only prevented the problem, but fixed it in the motors already failing on the market. Chris was holding the key to the future of what is known today as Hot Shot's Secret Stiction Eliminator. Now that he has the solution, the question is what to do with it? Take it back to International Truck and Engine and take the pat on the back? Hand it over and walk away? Absolutely not. Patenting the formula and creating something much greater sounded like a better idea to Chris. "At the time, it felt like I was alone on an island with a chest full of gold", said Chris. "I knew what I had and who needed it, but had no way to take it there."
It wasn't long after, Chris received a phone call from a gentleman who was facing injector issues in his 6.0L Powerstroke. The mechanical fix was going to cost him about $3,000 to get his truck back on the road and he just didn't have that available at the time. Needing his truck to provide for his family, Chris explained what he had come up with for International and promised that if the formula did not fix his injectors, he would refund him 100%. Not long after Chris received a call back claiming all of the failed injectors where back on line. A $3,000 fix solved by a $50 additive. Things were about to get very exciting for Chris and this formula.
Chris' operation began as a two-man business being run out of his small garage. They did it all; the promotion, the selling, blending, bottling, and shipping. Fulfilling small 1-2 bottle orders everyday became the normal for quite some time. We all love sharing something new with our buddies when we discover it works, which worked to Chris' benefit out of the gate. Fast forward a few years and a few thousand hours of continuous research and development, and that same formula developed over 20 years ago, has been discovered to do much more than just bring HEUI injectors back to life. Not only does Stiction Eliminator clean the burnt/sticky oil from the motor, it also provides an incredible amount of lubricity to everything it touches. Turbos, oil pump, rings, pistons and more are benefiting from this formula. Today, it is also changing the game for gasoline powered engines. "It seems as if every rock we turn over reveals yet another benefit of using Stiction Eliminator" says Chris. "And in the few cases it doesn't work for someone, we just give them their money back".
Looking back at how everything began for Chris and company is motivating for us all. It is an amazing story for an amazing product. Since the development of Stiction Eliminator over 150,000 bottles have been sold across the globe, continuing to help vehicle owners increase performance and save money at the repair shop. Stiction Eliminator is still backed by Chris's original promise, if it doesn't work you get your money back, no questions asked.