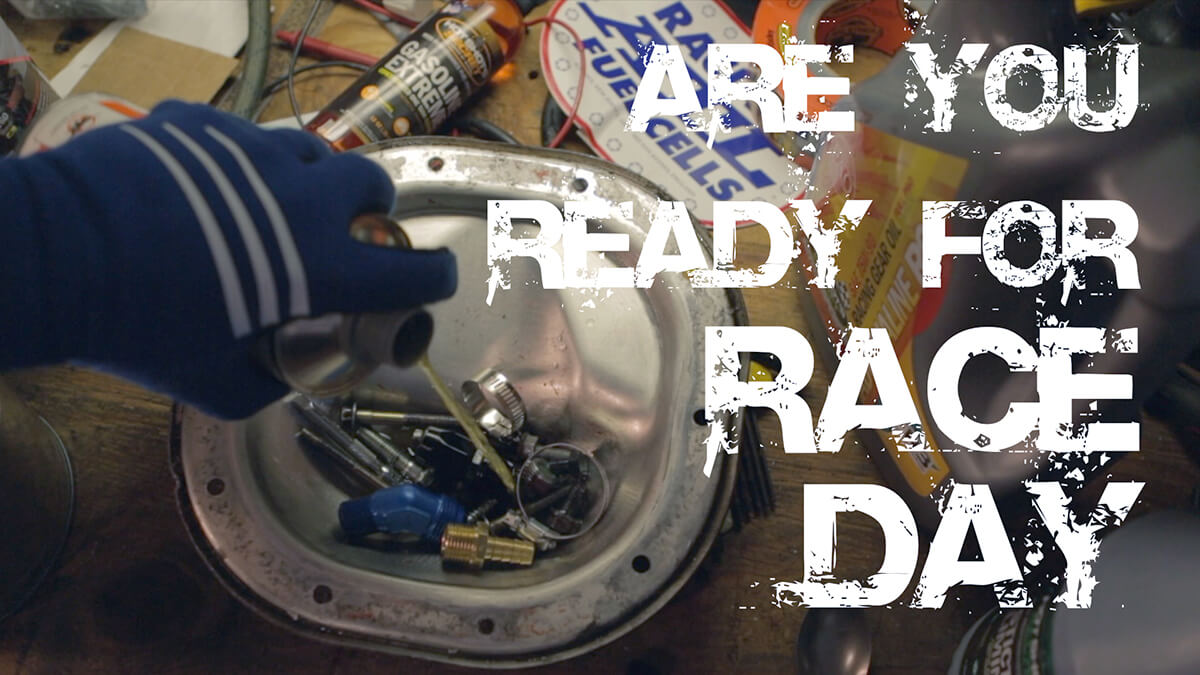 March 29, 2019
For those of us sleeping peacefully in our beds every night, there are thousands of soldiers out there, scattered across the globe with bombs and bullets aimed at them, sleeping in fox holes, under trees, on top of military tanks and trucks hoods, and who-knows-what other not-so-peaceful conditions; so that we can. And we say thank you!
Fortunately, thanks comes in many forms and when not in uniform protecting the stars and stripes, many of our veterans and active-duty military are finding new ways to support and give back to their own and to the civilian population as well.
Sporting a badge of honor on his chest as well as his race car, Owner/Driver at USMC Racing LLC and 0430 Embarkation Officer in the U.S. Marine Corps, Brian Czech provides that very opportunity in his Hot Shot's Secret-sponsored Chesty's Chariot race car, with USMC Racing.
And while the Marine Corps is very serious business, when trading his dress blues for his racing fire suit, Czech also trades in his strict discipline of the Corps for some fun and zany antics in his shop and at the track. With the car's namesake in homage to the Marine of all Marine's, the Chesty's Chariot is not what you might think of when it comes to racing's crème de la crème of vehicles on the race track. Instead of the high-dollar NASCAR, F1 and/or Indy Racing machines exemplifying performance perfection, the cars running in the Lemon series, Chesty's Chariot included, is what others might call, well, a bit to the other end of the spectrum!
With the remaining resemblance of his '96 Crown Victoria, the tan and green digital military dressing of the Chesty's Chariot is now criss-crossing race tracks across the country in the 24 Hours of Lemons series (Yes, that says lemons, not Le Mans). And with the hilarious attitude of the series itself, Czech's USMC Racing team, and the shenanigans they bring along with them, are a perfect fit for the spectacle.
Czech started his love of racing well before he had joined the Marines. "I loved watching old NASCAR races with my dad," says Brian. "I really enjoyed NASCAR in the old days, when 'innovation' was still alive and well prior to official restrictor plate racing. For example, those guys would place the silver foil from a Marlboro pack under their carburetors so the inspection-tent officials would 'see' a plate. As soon as the car fired up, the 'plate' would get sucked into the system and burned out in the exhaust! I grew up watching when Richard Petty's motto rang true that if you ain't cheatin, you ain't tryin!"
Czech entered the Marine Corps in 2004 and carried his passion for speed through out. During his many deployments across the globe (Okinawa, Thailand, South Korea, Indonesia, Marstok, Afghanistan and beyond) including hostile territories dodging enemy bullets, Czech has earned his way from enlisted ranking to Chief Warrant Officer 2.
Czech started putting his foot to the floor in 2012 when he bought his first racing vehicle, a 1978 F-150 with a 460ci big block. Brian began his mods with some weight reduction, replacement of the destroyed Detroit Locker rear-end, bored the engine, replaced the heads, and started drag racing in the 12's. "I was in this crappy truck that no one would even acknowledge. I had no sponsors and no support. No one wanted anything to do with this truck," recalls Czech. "After I had quite a few racers just hammering me for driving a 'farm truck' at the track, I decided maybe it was the wrong approach. To step up to the 10's would cost too much and my wife wouldn't go for it!"
Prior to his 2017 deployment, he shredded the truck into parts and sold everything he could. No one wanted the body however, so it sat as an empty shell in his shop. When the junkyard came to take away his 'baby,' and after all the blood, sweat and tears he had personally put into the truck to build a contender, he had to watch the forklifts spear the body and take it away. "I literally had to turn around and walk away, so upset watching them ram her. And no warning!" says Czech, "They came in full tilt and pierced the hell out of it. They could have asked permission first! And then I deployed the next day."
Czech came home to his new baby girl that was born while he was overseas, and after a couple months around the house, Czech says his wife would implore that he 'get a hobby.' The sitting around the house, playing Xbox and the mood swings had to change and Czech says he had heard about the 24 Hours of Lemons. "I happened to find a guy on Craigslist selling his Lemons car," says Brian. "It had all the fixin's; tires, fuel system, extra parts, and everything. I looked at my wife and said this is it! The Lemon cars are restricted to a value of $500, and can't slap a turbo on it without penalty. This is perfect!" With a bit of a reluctant wife aboard, the two ventured into the new purchase and ran their first race at Carolina Motorsports Park. Ironically, for a car to make it through a 24-hour race, it has to be far from a lemon.
"Day one, the motor blew up," says Czech, "Day two, the coolant system blew entering into turn two of the 2.27 mile track and we drove all the way around to the paddock with no coolant." With all the bearings warped and burnt out, and the oil weep holes clogged with metal from overheating, it almost shut down the one-race team. His troops rallied however, racing their second event in November of 2018, and a complete turnaround has ensued. "We raced Road Atlanta and Barber's this past winter. When I became an LLC, it also helped with sponsorships. Hot Shot's Secret, for example, has come on board with some great product not only improving the car's performance but also keeping us operational at the track.
USMC Racing LLC uses Hot Shot's Secret in both the race car and the truck. "My daily driver is also my hauler truck," says Czech. "And I use Hot Shot's Secret to not only get me around the track, but to get me to the track! I've been using the Stiction Eliminator for a good three years now, with a very noticeable increase in oil pressure and improved throttle response. I add the Stiction Eliminator with every oil change and I use the Diesel Extreme as a standard maintenance must-have."
Czech also follows others in racing, and their winning ways working with Hot Shot's Secret. "HSS sponsors one of the fastest diesel trucks in the nation and I want in on that! We use the Hot Shot's Secret Adrenaline series racing oils too (R5 20w-50 Racing Motor Oil and Adrenaline R9 75W-90 Racing Gear Oil). Hot Shot's Secret clearly has this oil program together!"
"In addition to Hot Shot's Secret, I am getting product discounts as sponsorships too," Czech claims, gratefully. "Regardless if monetary sponsorship, products and/or discounts, it's all such a great help so that we can focus on our goals – to get vets and active-duty soldiers in the car at a reduced price compared to our normal seat fee. Being a part of this team is a way for our veterans and fellow active-duty members to reconnect with their military roots, meet new friends and enjoy an awesome weekend of racing. It gives our drivers the ability to 'let loose' a little bit, and for some, it's an outlet that helps them readjust and a revisit to the adrenaline fix that so many of us tend to crave." USMC Racing offers a standard (civilians) rate of $600 to $700 for the seat time at the 24 hour Lemon races, and hopes to attract more of their fellow military brethren by offering fractional rates, to help make it happen.
"I can't do this on my own," states Czech. "After years of racking up debts for racing, USMC Racing is now an LLC so we can charge fees, and work with sponsorships to help fund the venture, all with the bigger picture of helping, giving back, and saying thanks to everyone as well. Our goal is to get our service members as much seat time as we can, at the least cost possible to them."
Brian says that the 24 Hours of Lemons is a perfect opportunity because, "none of us are really that good at driving a race car! We aren't trained for driving Porsche or WRL Miatas, but we have some civilians jump in the seats that have been, which provides a nice balance for our teams!"
USMC Racing offers their thanks to Hot Shot's Secret racing oil, Silver Sport Transmissions, C and R Radiators, Evans Coolant, AIM Racing, Frostbiter Defrost, RaceGas, Full Tilt Racing, ATL Fuel Cells, Ardent Services, Trident Productions and all the racers that have come from around the country that have joined us! Unlike the 24 hours of Daytona or LeMans, Brian says, "If you drive the Chesty's Chariot in the race, your name stays on the roof of the car!"
USMC Racing will be entering six events in the 2019 season including New Orleans, Carolina Motorsports Park in April and September, Houston, and Road Atlanta.
With a growing family, continual movement in the Marine Corps, and a new racing platform for his brothers/sisters in arms, Brian Czech seems to have a full plate. All in the name of service to others he continues all three, forging ahead as a Marine, a father, husband, and racer, and just a guy out having fun zipping around the race track as much as he is zipping around the globe. To Czech, and to all serving our country with honor, courage, and a commitment to keep us all safe, Semper Fi! And thank you to all of our military and first-responders wherever you may be, for your and your family's service to our country and the betterment of our world at large.