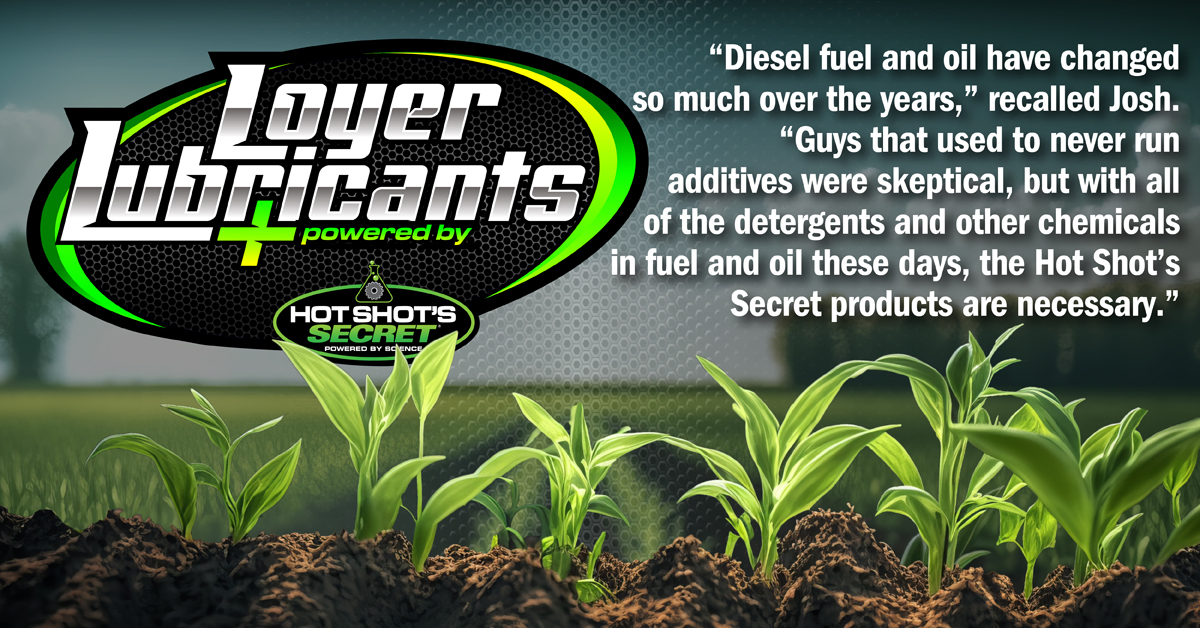 June 20, 2023
Hot Shot's Secret's nationwide dealer network is the backbone of getting products in front of consumers, enthusiasts, and business owners alike. Josh Loyer of Loyer Lubricants is the biggest dealers in the country and has built his business on maintaining genuine customer relationships, his hunger for success, and a sincere desire to help his community.
Loyer Lubricant's bread and butter is growing corn, wheat, soy beans, and running cattle in Marion, Ohio. It is a multi-generational endeavor started by his great-grandfather. Today, Josh, his brother and his dad run the operation, but even at 100 years old, their great-grandfather was out working every day before he passed away; continuing to build on what he started decades prior.
Then, about six years back, a neighbor and friend, Tom Perini, turned Josh onto the Hot Shot's Secret products. But, once that neighbor moved away, Josh lost access to the products he depended on to keep his equipment in top shape. It was that need that sparked a family-like business relationship with Hot Shot's Secret that is still running strong. "I figured if I could sell enough to pay for the stuff I use, that's great," Josh said. Little did he know that he would soon become the brand's largest dealer.
Even before becoming a Hot Shot's Secret dealer, Josh helped fellow neighbors by servicing their equipment in addition to his own, but never chased after the work. However, as his business grew, more people in the community requested his expertise and came knocking in need of not just service, but also Hot Shot's Secret products. Being located only one county away from the brand's headquarters made it easy for Josh to keep inventory consistent. "When I need to restock, I just drive down and pick everything up," he said.
In the early days, few people knew what Hot Shot's Secret was so, a large amount of Josh's time was spent educating those curious about the products. Many people did not see the need for additives or specialty lubricants, especially those who worked in a time when products like those weren't relevant or proven necessary. "Diesel fuel and oil have changed so much over the years," recalled Josh. "Guys that used to never run additives were skeptical, but with all of the detergents and other chemicals in fuel and oil these days, the Hot Shot's Secret products are necessary."
Because of Josh's positive experience using the product line on his own equipment and his motivation to help his customers, folks were willing to give it a shot and see for themselves how it worked. Josh told a story about the owner of a large, local trucking company whom he went to school with. According to him, using these additives have saved him money in nearly every segment of his fleet of thirty trucks. After using the Hot Shot's Secret oil and fuel additives, there was more time between service intervals, less wear and tear on the engines, and fuel costs dropped with increased fuel mileage. Though it was a bigger investment up front, the savings, in the long run, were massive. "He told me that if it wasn't me who'd showed him Hot Shot's products, he probably wouldn't have gone through with it," laughed Josh as he recounted the story. Today, this trucking company is one of Loyer Lubricant's biggest customers.
Through word of mouth and genuine connections with fellow farmers, business owners, and customers in his community, Josh has been able to positively impact people's lives by providing Hot Shot's Secret products to those able to reap the benefits of decades of research and development. This has also led to some incredible opportunities, like sponsoring some heavy-hitting teams in motorsports. "We sponsor 10 guys on the national level of truck and tractor pulling competition," Josh said. "It's awesome to see our brand on these incredible machines." Some of the machines that Josh mentioned are 5,000 horsepower pro stock tractors with billet engines, fed by turbochargers that you could fit your head into.
As a dealer, Loyer Lubricants has grown exponentially over the years and for Josh, things are looking bright in the future. "The sky is the limit," he said. "I've set a goal to double my business every year and become a one-stop-shop for people that need everything from lubricants and additives to filters and other products for the DIY folks." For the first time, Josh is considering bringing another person on board to lend a hand in his growing business. "There's a pretty ambitious kid named Noah who will fuel up at different stations in the area and pass out fliers and bottles of fuel treatment. Some of those recipients make their way to the shop where I have the chance to educate them on how Hot Shot's Secret can help them.
Josh's passion for Hot Shot's Secret and the relationships he has built along the way are a testament to the efficacy of the products. He's sure to continue growing his business and brand moving forward and is excited for what is to come. "I'm super competitive and hungry for continued growth in the future."
Click here to learn more about how your business can join the Hot Shot's Secret dealer program!