May 26, 2020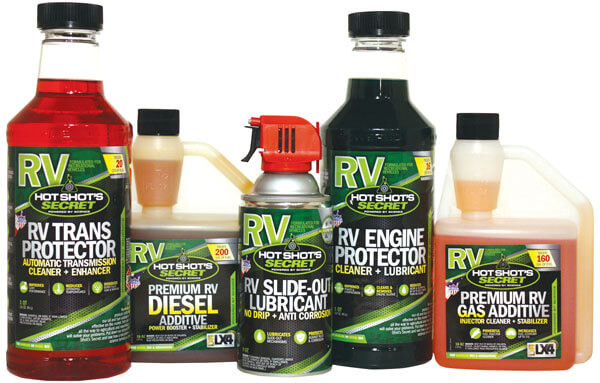 New professional-strength additives formulated for recreational vehicles ensures long-lasting engine and transmission performance, improved fuel economy and more
Lubrication Specialties Inc. (LSI), a leading manufacturer of high-quality fuel and oil additives developed for automotive vehicles under the Hot Shot's Secret brand, now offers a line of additives specifically formulated for gas and diesel powered recreational vehicles. The new line of Hot Shot's Secret RV additives protects the engine, transmission, fuel and oil systems and slide-out mechanisms for improved RV performance, fuel economy and reliability.
RV Engine Protector is a premium RV oil additive formulated to improve performance and reliability of RVs by safely cleaning engine components of stiction and other sludge that occurs inside RV engines. RV Engine Protector contains the patented FR3 Nano Lubricant that reduces friction and increases the oil's film strength, resulting in a reduction in wear of up to 62%. Safe for gas or diesel engines, RV Engine Protector will improve hill-climbing performance, fuel economy and reduce lifter and valve noise.
Premium RV Diesel Additive is a multi-functional fuel additive for diesel powered RVs. It significantly upgrades performance, power and fuel economy by improving the fuel's cetane and lubricity properties. It also stabilizes fuel for long term storage for up to one year. This product boosts cetane up to 5 points, enhances lubricity of Ultra-Low Sulfur Diesel (ULSD) and cleans and maintains fuel injectors. With use, Premium RV Diesel Additive improves hill-climbing performance and fuel economy up to 3%.
Premium RV Gasoline Additive is a multi-functional fuel additive for gasoline powered RVs and contains the strongest fuel injector cleaner available. RV Premium Gasoline improves the fuel economy and power of gasoline RVs by cleaning the entire fuel system; effectively removing combustion chamber and intake valve deposits. With use, this product will increase fuel economy up to 5%. RV Premium Gasoline also lubricates and stabilizes gasoline for long term storage and protection.
RV Transmission Protector is a unique RV transmission additive that contains lubricity and cleaning agents formulated to combat issues associated with today's RV transmissions, such as poor/inconsistent shift quality, rough operation and burning transmission fluid.
RV Slide-Out Lubricant is a spray lubricant formulated to protect all types of RV slide-out mechanisms from rust and corrosion while also lubricating to ensure a smooth and quiet operation. Quick-drying and long-lasting, it extends the life of slide-outs. It is safe for use on multiple surfaces including paint, metal, rubber, vinyl and plastic.
All five Hot Shot's Secret RV products are backed by the company's money-back guarantee that states that if the product does not deliver as promised, the full price of the product will be refunded. For more information about Hot Shot's Secret RV line of products, or where to buy information, visit HotShotSecret.com. To speak directly with a Hot Shot's Secret highly qualified technician, call toll free 800-341-6516, or visit the company's Talk to an Expert page for specific help.