May 21, 2021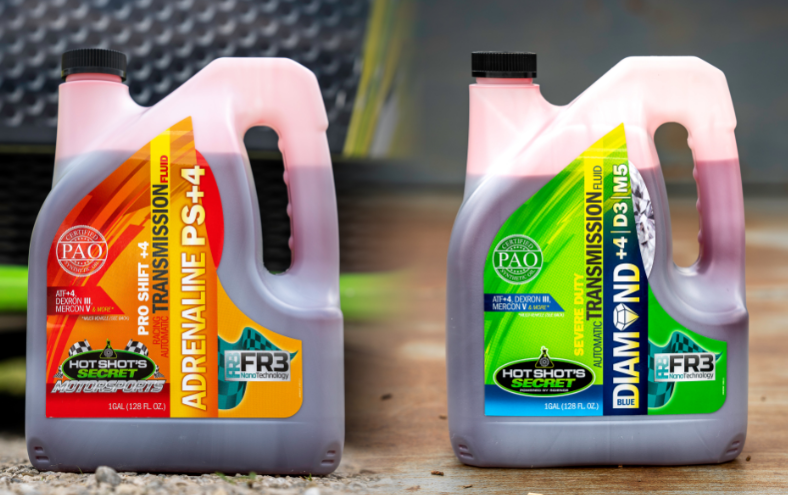 Mt. Gilead, OH, (May 20, 2021) — Hot Shot's Secret is proud to announce two new multi-vehicle automatic transmission fluids formulated specifically for severe-duty and race applications. The formulations protect against some of the major causes of transmission failure, including extreme heat, fluid oxidation and a lack of proper lubrication.
Both formulas, Severe Duty Blue Diamond +4/D3/M5 and Adrenaline Pro Shift +4, are developed from combined 100% poly-a-olefin (PAO) Group IV and high-quality Group V synthetic oils. For added protection, the transmission fluid formulas are infused with Hot Shot's Secret FR3 nano carbon lubricant technology. FR3 improves shearing and oxidation stability, film strength, removes varnish and sludge deposits and reduces friction and heat. This patented nano technology lubricates and fills in the microscopic irregularities on machined surfaces to extend the life of the transmission while under heavy load, challenging terrain or the stress of high horsepower or torque.
Blue Diamond +4/D3/M5 is recommended for the most common ATF specifications, including but not limited to ATF+4, DEXRON III and MERCON V. It is formulated to protect against fluid breakdown that is common with severe duty applications, such as heavy towing and challenging terrain and will help clutches, bearings and bushings last longer and perform better.
Adrenaline Pro Shift +4 was formulated specifically for high horsepower, high torque racing applications. This formula promotes quick, non-slip shifts and provides superior protection for any race application. Third-party testing demonstrates improved horsepower up to 3% over the leading national brand. This fluid formula meets the specific requirements of Fiat Chrysler (FCA) automatic transmissions and certain Hyundai and Mitsubishi transmissions. It is fully back-serviceable and can be used wherever ATF+3, ATF+2 or ATF+ is specified. Both new transmission fluid formulas are backed by a money-back guarantee.
For more information about Hot Shot's Secret Severe Duty Blue Diamond +4/D3/M5 Transmission Fluid and Adrenaline Pro Shift +4 Racing Transmission Fluid, including specific transmission fluid specification applications, visit www.hotshotsecret.com. To speak directly with one of Hot Shot's Secret highly qualified technicians, call toll free 800-341-6516. Keep up with the latest Hot Shot's Secret company and product news on Facebook and Instagram, or by following #hotshotsecret.