November 6, 2018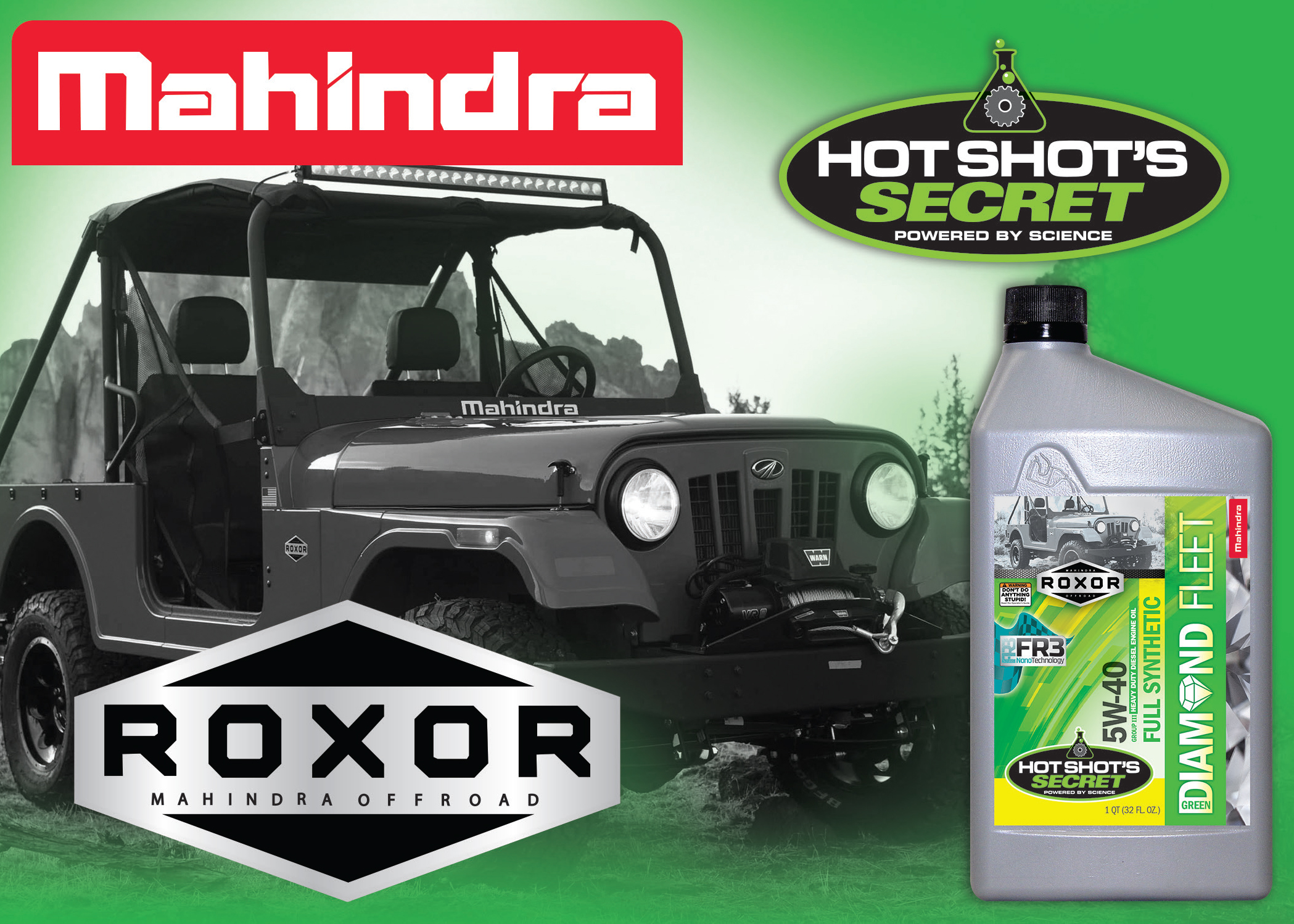 Mt Gilead, OH, (October 23, 2018)… Lubrication Specialties Inc. (LSI), manufacturer of Hot Shot's Secret performance additives and oils, is pleased to announce that Mahindra ROXOR off-road vehicles (Classic, LE and SE) sold in North America will now include Hot Shot's Secret Green Diamond Engine Oil synthetic diesel engine oil as part of the maintenance package available at ROXOR dealers.
Hot Shot's Secret Green Diamond 5W-40 synthetic engine oil is a 100% pure synthetic engine oil using only Group III base oils that is ideally suited for ROXOR's 4 cylinder, turbo diesel engines. Green Diamond is infused with patented FR3 Nano-technology and a CK-4 blended detergent additive package that provides exceptional oxidation and thermal stability, and prevention of deposits and oil breakdown. The result is reduced engine wear, improved fuel economy and horsepower and reduced oil consumption and drain intervals. ROXOR chose Lubrication Specialties Inc. to supply the oil for their branded oil change kits due to the superior product, as well as the flexibility that LSI has to meet the specific needs of ROXOR.
Lubrication Specialties Inc. Director of Marketing, Kyle Fischer, says, "We are very excited to make this announcement. Mahindra is a trusted brand with a long history of developing quality off-road vehicles and tractors. By sharing our test results and working with the managers at ROXOR, we were able to prove conclusively that Green Diamond is superior for the demands of off-road. The ROXOR, like the Jeep, is a vehicle that has this incredible history proving its mettle during war, but evolves with cutting edge innovation. They have great brand recognition, so clinching this deal and endorsement with Mahindra is a huge step for Hot Shot's Secret engine oil in a very crowded and competitive market."
Green Diamond Engine Oil is available nationwide at independent Hot Shot's Secret dealers and online at hotshotsecret.com.