March 24, 2022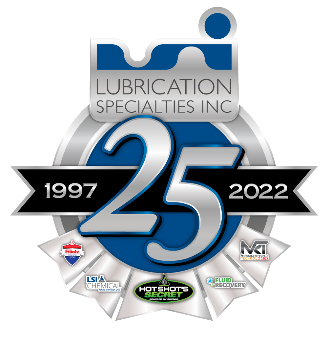 Lubrication Specialties Inc. (LSI), manufacturer of Hot Shot's Secret and international distributor of high performance lubricants, announces the company's 25th anniversary. The company owned by CEO Chris Gabrelcik began modestly as a home-based business in 1997. Gabrelcik, who holds certifications as a Certified Lubrication Specialist (CLS) and Oil Management Analyst (OMA), initially developed lubrication solutions for major industrial clients. The company's mission was to solve real world industry specific problems unaddressed by the market with the highest quality lubricant solutions.
In 2003, Gabrelcik was approached by Navistar International, manufacturer of the Power Stroke engine for Ford Motor Company, to help determine why HEUI injectors in the 6.0 and 7.3-liter Power Stroke engine were consistently failing prematurely. Gabrelcik discovered the issue was stiction, a sticky varnish that was occurring on the oil service side of the injectors and formulated the ideal lubricant solution; a powerful oil additive that removed stiction and provided lubrication that could restore HEUI injectors to full operation nine times out of 10.
The formula, Hot Shot's Secret Stiction Eliminator, was branded at a time when hot shot truckers were busy transporting FEMA trailers to the Gulf Coast to assist with the Katrina hurricane clean-up. Today, Hot Shot's Secret has developed into the fastest growing performance lubricant brand in the USA and boasts over 50 high performance oil and fuel additives for diesel- and gas-powered vehicles, race products including racing oil, transmission fluid, gear oil, and oils and fluids for specialty needs —import, heavy duty and more. Diesel Extreme and Everyday Diesel Treatment soon followed Stiction Eliminator and Hot Shot's Secret quickly became known as the "Diesel Experts."
In the past 25 years, LSI has grown both organically and through acquisition adding multiple divisions – LSI Chemical, Frantz Filters and Fluid Recovery. Sixty employees operate at their headquarters and recently acquired shipping distribution center in Mt. Gilead, OH. In 2014, LSI purchased Frantz Filters and Fluid Recovery. In 2017, Hot Shot's Secret incorporated motorsports sponsorships and the brand spread by word of mouth as diesel race champions using Hot Shot's Secret products chalked up wins. To keep up with growth, LSI greatly expanded the company's bottling and blending capabilities by building a new facility that included offices, manufacturing, blending, R&D, sales and marketing. In 2020, LSI formed LSI Chemical, a division with a focus on developing high performance additives to be marketed to downstream refinery operations and private label, and to market Hot Shot's Secret internationally. In a few short years, LSI Chemical has established 16 distributors in Asia, Africa, Europe, and Central and South America. Last year, LSI invested in a new 24,000 square foot distribution / shipping hub to accommodate 50 plus SKUs of Hot Shot's Secret and LSI Chemical product lines.
Hot Shot's Secret products are now sold at many mass merchandisers and major auto retail establishments such as Walmart, Tractor Supply, O'Reilly Auto Parts, AutoZone, at top truck and travel centers – Pilot, TA/Petro, Love's, as well as independent dealers and retailers and performance shops in this continent and via distribution centers abroad. Powered by science, LSI has become known as an expert in the field of nano lubricant technology and develops problem specific solutions for multiple markets including motorsports, automotive, off-road, import, fleet, RV, heavy duty transportation and oil and gas refinery.
Last year, LSI launched the Steve Sommers Overnight Drive Show, a live call-in late night trucking show that airs Monday – Friday from midnight to 5 a.m. and sponsored Firepunk Diesel's S10 that holds the world record for the fastest diesel on the planet – 3.998 seconds in the 1/8th mile.
LSI President Brett Tennar, says, "At LSI, we only create products that are the best they can be for their designed purpose which is the primary difference between our company and larger manufacturers. Our success has been afforded by staying true to this principle, working with the brightest minds in the industry and being forward thinking about consumer needs and industry trends.
Lubrication Specialties is poised to grow again this year with expanded retail distribution of the Hot Shot's Secret brand and continued growth in independent performance dealers and online sales. This is an exciting time for our company, and we are looking forward to the challenges of the next 25 years."
For more information about Lubrication Specialties Inc., view this video or visit LubricationSpecialties.com, call 800.341.6516, or follow LSI on Facebook and other social media platforms. For more information about Hot Shot's Secret oil additives, fuel additives and specialty oils, visit HotShotSecret.com. To speak directly with one of Hot Shot's Secret highly qualified technicians, call toll free 800-341-6516. Keep up with the latest Hot Shot's Secret company and product news on Facebook and Instagram, or by following #hotshotsecret.