February 15, 2018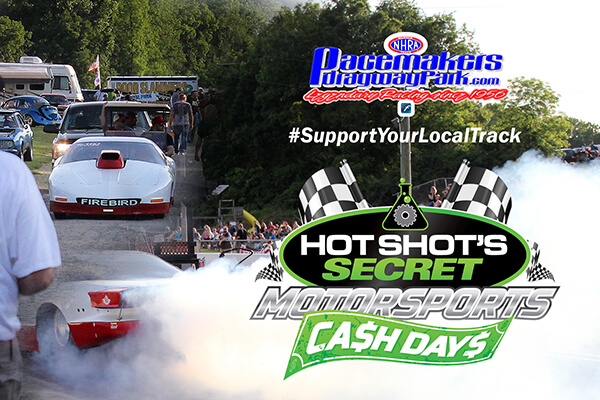 Every state in the United States has its share of abandoned drag strips and race parks. In support of grassroots and sportsman style racing, Hot Shot's Secret announces a Support Your Local Track initiative beginning with a 2018 sponsorship of Pacemakers Dragway Park. Hot Shot's Secret, a brand of high performance fuel and oil additives manufactured by Lubrication Specialties Inc. in Mt. Gilead, OH, has recently increased its national level of support of motorsports racing announcing sponsorship for NHRDA's Diesel Drag Racing Series, in addition to the Ultimate Callout Challenge, Northwest Dyno Circuit and the Outlaw Diesel Super Series.
This year, Hot Shot's Secret will also locally sponsor for the first time a six event Cash Days Series hosted at Pacemakers Dragway Park in neighboring Mount Vernon, OH near Hot Shot's Secret headquarters. Pacemakers is the second oldest continuously running NHRA sanctioned racetrack, dating back to 1956. In addition to traditional E.T. bracket programs, the dragway also hosts test and tune Grudge Gamblers races, high school events, Junior Dragster, Q32 events, as well as its Street Grudge, no time type events. Pacemakers Cash Days is considered by some to be the epitome of grudge racing in the Midwest and has exploded in popularity recently. These well attended events feature auto and motorcycle racing on an eighth mile length drag strip throughout the day and into the night.
Lubrication Specialties Inc. Director of Marketing, Kyle Fischer, says, "As important as it is for brand recognition and education to sponsor nationwide series events to reach core racing enthusiasts, to our company it is equally important to support our local racetrack to ensure that grassroots and sportsman level racing thrives. It is also a great way to connect with local racers for feedback and to test and further develop our products. This year, we are excited to launch our Support Your Local Track initiative and hope that other companies in the area and nationwide will follow suit with financial support of their local tracks so that we never have to see another abandoned drag strip."
This year, in addition to sponsoring the six event Cash Days Series at Pacemakers, Hot Shot's Secret is kicking off the season by hosting the annual Pacemakers Dragway Park Awards Banquet which will be held at the headquarters of Lubrication Specialties Inc. in Mt. Gilead, OH. Over 100 racers are expected to attend the event.