March 3, 2021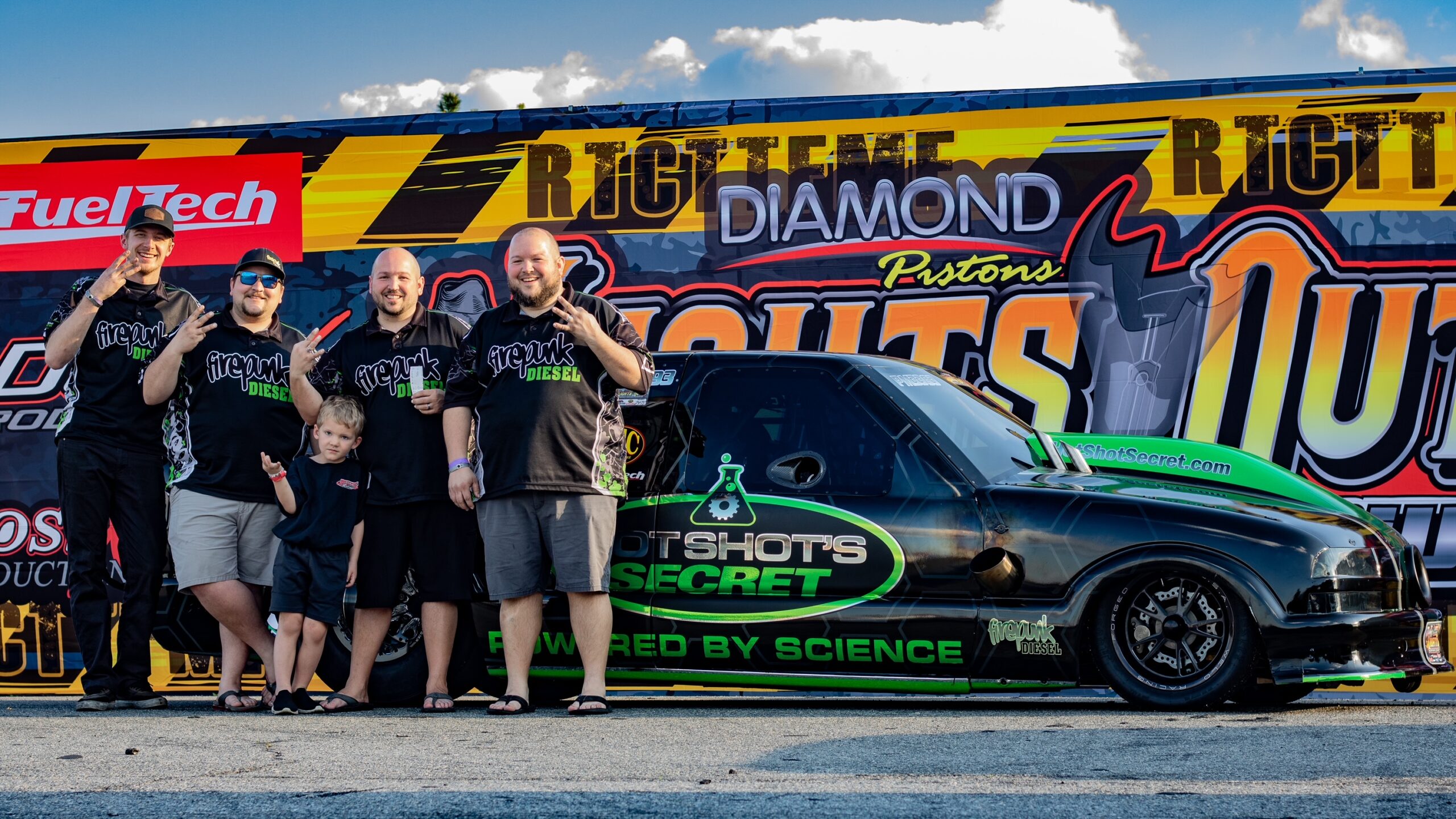 Mt Gilead, OH, (March 3, 2021) – The Hot Shot's Secret sponsored Firepunk Diesel S10 truck added a new chapter to the drag racing history books by achieving what was once thought to be impossible by being the first ever diesel-powered vehicle to run an 1/8th mile pass in under 4 seconds. Based out of Ohio, the Firepunk Diesel team brought the Hot Shot's Secret wrapped S10 down to Georgia to compete on one of drag racing's greatest stages— Lights Out 12 at South Georgia Motorsports Park in Adel, GA. Considered the baddest small tire race in the world, participants raced for over $120,000 in cash and prizes; all streaming live on FloRacing.
Going head-to-head against the nation's fastest gas-powered race cars, Larson Miller from Firepunk Diesel was behind the wheel of the only diesel-powered vehicle in the crowd-favorite Radial vs The World Class. The Hot Shot's Secret sponsored Firepunk Diesel S10 already broke its own world record at the end of 2020 at No Mercy 11 with a stunning 4.11 pass at 181 mph. After some off-season upgrades, the Firepunk race team opened the 2021 season with multiple new personal best times (4.10, 4.04, 4.04 and 4.00), but most notable was the world's first ever 3-second diesel pass as the Firepunk truck shocked the drag racing world with a blistering time of just 3.998 seconds at 182.67 mph.
Kyle Fischer, Hot Shot's Secret Director of Branding & Promotions, says, "I cannot put into words how proud I am of this team for what they have just achieved. This 3-second goal has been years in the making and a result of a collaboration between the best companies in the diesel performance industry to get it done. I can tell you that nobody works harder than the Firepunk Diesel team and it is simply an honor for Hot Shot's Secret to play our part in this team effort to be the first diesel in the 3's. Nobody can ever take that away. It's now a part of diesel performance and drag racing history. Congratulations to the entire team. It's been one hell of an exciting ride and we know there is even more to come."
Lyn Miller, Crew Chief of the Firepunk Diesel race team, adds, "It feels awesome. I'm just thinking about everybody back home. I've been getting a lot of messages from family and friends, and I know the guys at the shop are stoked. And I'm thinking about all of them. You know, somebody has to stay at the shop to keep things going so we can come out and do this. So thanks guys. And to our families at home, they have made a lot of sacrifices. So it feels good when all of this hard work has finally paid off."
Firepunk Diesel owner, Lavon Miller, says, "It's amazing. Super accomplishment for our team. A ton of hard work went into this. It's something we've been chasing to try to get this truck into the 3's and every time you go deeper into the 4's it seems like it's so close yet so far away and it finally all came together. It is really an accomplishment for the diesel world today and we are glad that our team can be a part of it. And it's a big team… Hot Shot's Secret, D&J Precision Machine, Exergy Performance, Nitrous Express, Menscer Motorsports, Neal Chance Converters, Rossler Transmissions, Fluidampr, TBM Brakes… a truck like this doesn't go fast like this without a team of great people and companies supporting it."
For video footage of the record-breaking win, click here. Keep up with the latest Hot Shot's Secret company and product news on their website, Facebook and Instagram, or by following #hotshotsecret.