January 5, 2021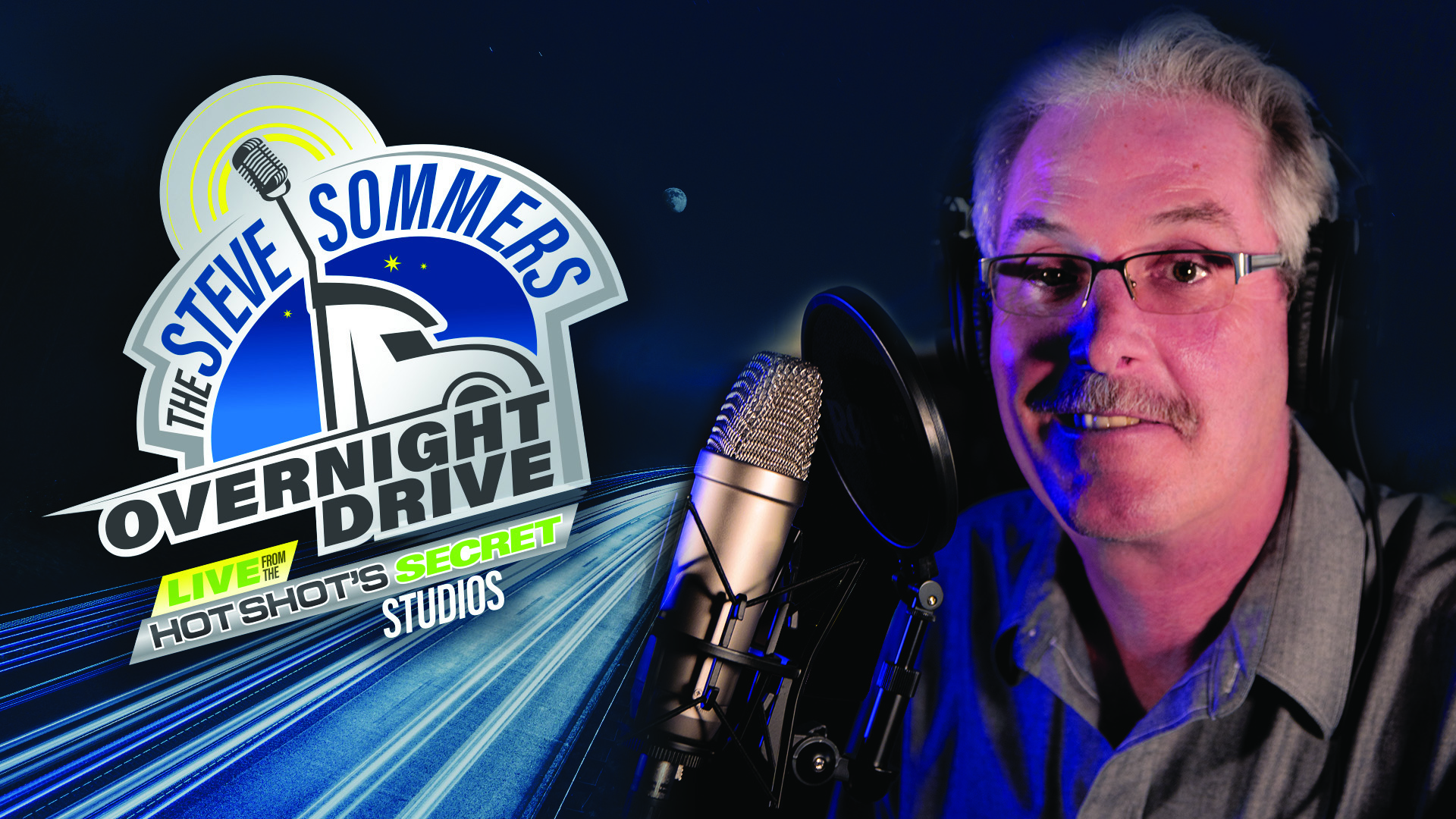 Mt Gilead, OH, (January 5, 2021) – The Steve Sommers Overnight Drive show launches officially on Monday, January 11, 2021 at 12:00 a.m. (EST). The five hour overnight call-in talk show will stream live from the brand new Hot Shot's Secret Studios and have a similar trucking-focused format as Steve's prior radio show, America's Truckin' Network, but will also provide a greater production flexibility with an expanded new audience and freedom to cover topics of interest to his callers. The show is scheduled to air weekly from midnight to 5:00 a.m. (EST) Monday through Friday and is the brainchild of longtime sponsor Hot Shot's Secret. As before, callers will be able to speak direct with Steve during the live show by calling a toll free number – (844) 844-3388.
To start, the live show will be featured exclusively on Hot Shot's Secret's YouTube and Facebook pages, which means for the first time, longtime fans will not only be able to hear but also see Sommers behind the microphone. Plans for expanded distribution of the program are currently in the works and will be announced in the coming weeks.
Kyle Fischer, Hot Shot's Secret Director of Branding and Promotions, says, "We are so excited to launch this new program and to get Steve back on the air where he belongs. He has an incredible fan base and a unique connection to the trucking community. The history of Hot Shot's Secret and really, our company's founding is closely tied to the support we received from Steve on his radio show many years ago. One good turn deserves another. Now it's our turn to show that we believe in him and the response we have received to date has been filled with nothing but overwhelming support."
The Overnight Drive Host, Steve Sommers, added, "Last year brought major change for everyone, and for some more than others. This is a new year with new opportunities and hopefully for all my fans, there will be a brighter future in 2021. For me, having the opportunity to reconnect once again with all my trucker friends coming home from a long night driving or those hard-working people that are up night after night working their jobs – it is a dream come true. To have the freedom to be able to produce and direct the content of my own show, and knowing about all of these great plans we have coming to add to the show… I'm just incredibly humbled and really excited at the opportunity."
Fischer concludes, "We have been busy. In just a matter of weeks, we have managed to bring Steve Sommers aboard, build the new Hot Shot's Secret Studios from ground up, and now we are days away from the official launch…which has remained our primary goal; to get Steve back on air with his fans ASAP. Now we begin to switch gears with a new focus of expanding the distribution of the program through all channels possible, including web streaming, podcasts, phone apps, satellite radio, terrestrial radio – you name it. We are fortunate to have a talent like Steve on the team, so we are going to provide the largest platform possible for Steve to do what he does best."
The Steve Sommers Overnight Drive show is currently solely supported by Hot Shot's Secret, the nation's fastest growing high performance lubricant company. Hot Shot's Secret Founder Chris Gabrelcik has been a supporter of Steve's prior radio show for many years, often being a guest on the show as both longtime friends are based in Ohio. The new Hot Shot's Secret Studios are located in Cincinnati, Ohio. Hot Shot's Secret is headquartered in Mt. Gilead, Ohio, and manufactures over 35 diesel and gas performance additives, specialty oils and a line of lubricants for multiple markets including heavy duty transportation, automotive aftermarket, motorsports, powersports, RV, agriculture and more.
Catch The Steve Sommers Overnight Drive by following Hot Shot's Secret on YouTube and Facebook, and talk to Steve live during the show by calling (844) 844-3388. For more information about The Steve Sommers Overnight Drive, visit www.OvernightDriveRadio.com. To keep up with the latest Hot Shot's Secret company and product news visit www.HotShotSecret.com, or call (800) 341-6516.