September 12, 2023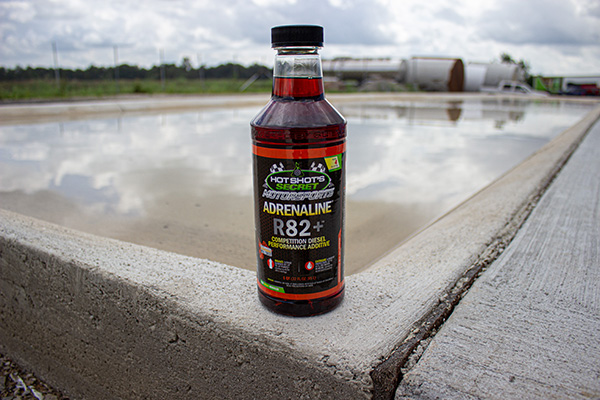 Mt Gilead, OH, (September 12, 2023) – Hot Shot's Secret extends the company's Adrenaline® Racing product line with a new competition diesel performance additive – ADRENALINE R82+™. Formulated for competitive off-road vehicles, ADRENALINE R82+ combines a powerful cetane improver with Hot Shot's Secret's new ADRENALINE Racing Top Lube fuel lubricant to decrease wear by up to 41% in ASTM testing. The result is a diesel fuel additive that not only provides maximum fuel system protection to the upper cylinder, pistons, and rings, but also much improved combustion for a significant increase in horsepower and efficiency. The cetane improver raises cetane by 34 points resulting in a more complete combustion process. With this significant increase in cetane, there is a lower cranking time, quicker turbo spool time, and less ignition delay as added cetane evens out the pressure peaks in the cylinders for improved efficiency and combustion.
For an added benefit ADRENALINE R82+ is infused with Hot Shot's Secret's soon to be released Racing Top Lube. Diesel fuel is often sold in a wide range of quality and lubricity. Low lubricity can cause excessive wear or scuffing to the piston and cylinder wall, damage fuel pumps and injectors and even cause total fuel system failure. ADRENALINE R82+ protects the entire fuel system – upper cylinder, fuel pump, injectors, pistons and rings from friction, scuffing and wear; all issues that can reduce performance and lead to premature fuel system failure.
Hot Shot's Secret Director of Branding & Promotions, Kyle Fischer, says, "The diesel motorsports industry has been in need of a product just like this for a long time and we are so excited to officially bring ADRENALINE R82+ to the market. We have been testing with many of our top race teams over the last three years to develop this product, and through tuning and testing we have found incredible horsepower gains. While there are some other competitors in this space, R82+ sets a new standard and stands alone on top with an unrivaled cetane boost and an industry best lubricity enhancer, all while remaining a great value. This product should be used in any diesel racing application where you want maximum horsepower and ultimate protection."
Hot Shot's Secret Branding Manger, Joshua Steinmetz, says, "I have talked with many racers that love the horsepower and performance of other products but have had issues with fuel system pump failure due to the dryness of the fuel. ADRENALINE R82+ still provides outstanding performance without compromising lubricity. I am confident racers of any diesel series will benefit from using R82+ in their vehicle for horsepower and reliability."
Hot Shot's Secret ADRENALINE R82+ meets most diesel race sanctioning body requirements when used as directed. Add 1-quart of R82+ to every 4 gallons of diesel fuel.  R82+ is for off-road use and is suitable for both mechanically injected diesel engines as well as all common rail applications. For more information, view this video.
For more information about this product including treatment information or to purchase, visit HotShotSecret.com. To find a dealer that carries the Adrenaline Racing product line, or to speak to a highly qualified technician on any Hot Shot's Secret product, call 800.341.6516. Keep up with the latest Hot Shot's Secret company and product news on Facebook and Instagram, or by following #hotshotsecret.