August 8, 2023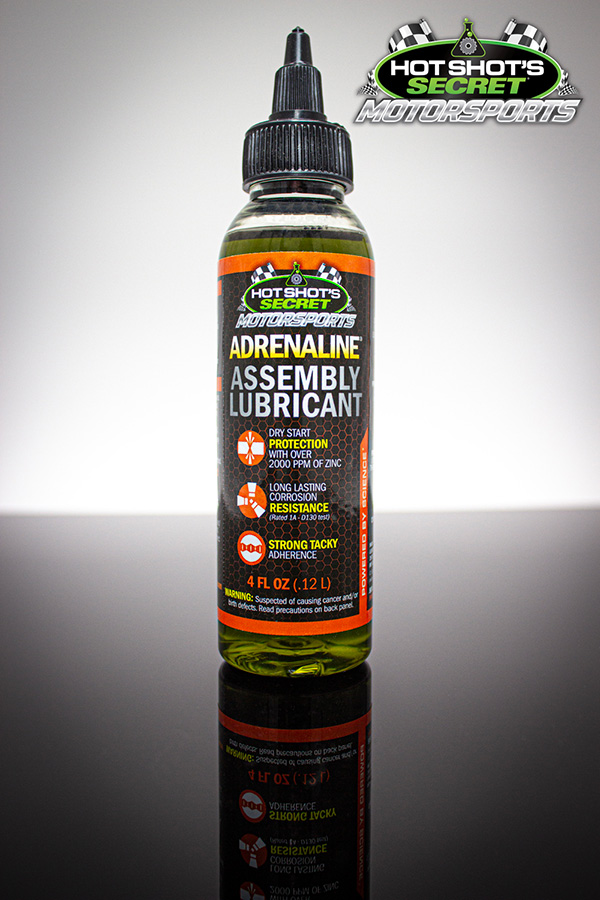 Mt Gilead, OH, (August 8, 2023) – In response to requests from top engine builders, Hot Shot's Secret®, the fastest-growing high-performance lubricant brand in the USA, is thrilled to announce the launch of Adrenaline® Assembly Lubricant. This corrosion-resistant assembly lubricant has extreme dry-start protection and a strong tacky adherence to parts. Adrenaline Assembly Lubricant is meticulously engineered to provide optimal performance during crucial assembly and start-up processes and is now the official assembly lubricant for Gator Fasteners.
Formulated to blend 100% with any commercially available break-in oil, Adrenaline Assembly Lubricant provides a noticeable long-lasting coating that clings to metal surfaces through the initial startup process. It adds much-needed lubricity to all engine parts including camshafts, bearings, valvetrain components, and engine fasteners such as head bolts and studs, connecting rod bolts, and other fasteners. Developed with over 2,000 ppm of zinc, Adrenaline Assembly Lube was tested against the leading competitor and proven to provide 27% better wear protection and stronger adherence. Long lasting corrosion resistance has been achieved with a 1A-rating in a D130 test since engines will sometimes lie either partially or fully assembled for extended periods.
Kyle Fischer, Hot Shot's Secret director of branding and promotions, says, "I am very excited about this product. Our R&D team talked with many of the top engine builders in the industry to formulate this product. There are a lot of top name assembly lube players so we didn't want to just come out with something that would do the job effectively, but to do it significantly better than the competition. Our Adrenaline race line began with our R-Series Racing Oils and this year we are greatly expanding into racing products that will provide maximum engine protection from start to the finish line."
Adrenaline Assembly Lubricant can be used with any engine assembly application – gasoline or diesel and is designed to work with all camshaft types. Made in the USA with globally sourced raw materials, Adrenaline Assembly Lubricant, as with all chemical products, should be handled with special care as instructed on the product's packaging. It is now available online at HotShotSecret.com and with select dealers for an MSRP of $9.99 for a four-ounce container. 
For more information about this product including where to purchase, visit HotShotSecret.com. To find a dealer that carries the Adrenaline Racing product line, or to speak to a highly qualified technician on any Hot Shot's Secret product, call 800.341.6516. Keep up with the latest Hot Shot's Secret company and product news on Facebook and Instagram, or by following #hotshotsecret.