October 11, 2022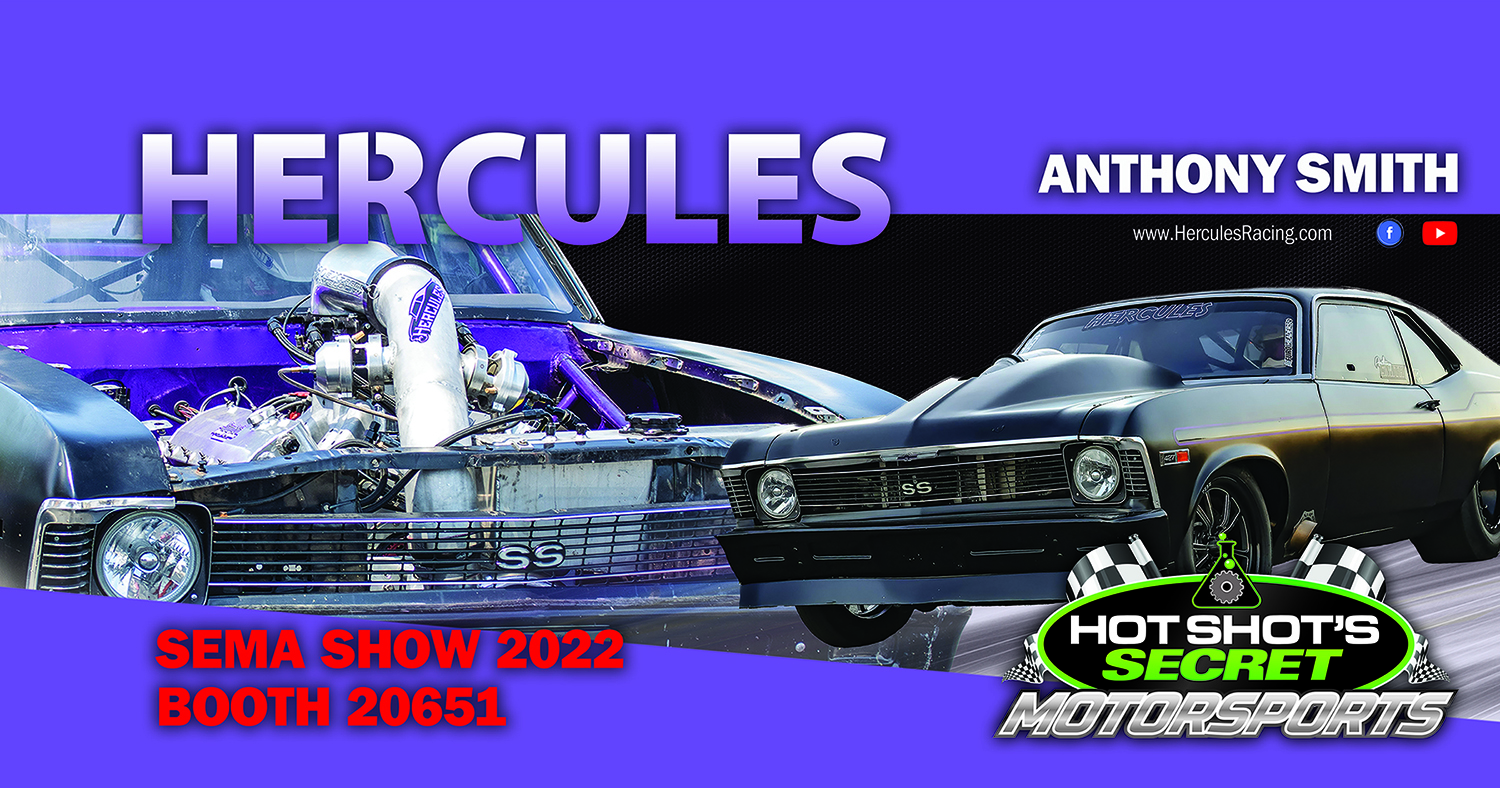 Mt Gilead, OH, (October 11, 2022) – Hot Shot's Secret is pleased to announce that street and no prep racer, Anthony Smith and his famous 1972 Nova, "Hercules" will be the featured vehicle in the company's 2022 SEMA Show booth, #20651. Anthony Smith, formerly a racer and the head mechanic for Memphis Street Outlaws (MSO) split with the series last year and announced in September the launching of his own speed shop, Next Level Speed & Auto Repair LLC, as well as the newly formed Hercules Race Team and the Hercules No Prep Racing Series.
Smith has been building engines for over 30 years and is considered to be one of the best engine builders in the industry. Next Level Speed & Auto Repair is a joint venture between Smith and his partner, Taylor Huffman, and is headquartered in Lepanto, AR. The shop handles everything from mild to wild, including common maintenance all the way to full race car builds, and is a proud dealer of Hot Shot's Secret high-performance lubricants.
In addition to the new performance shop, Smith also has created quite a buzz on social media recently with the announcement of his newly formed Hercules Race Team that consists of some of the biggest names in no prep racing. And to compliment the new race team, Smith announced the formation of the Hercules No Prep Racing Series that is set to debut in 2023. The new series will individually take place at over 7 tracks around the country, culminating in a series event that brings the top points leaders from each track series together for an end of the season finale.
Hot Shot's Secret Director of Branding & Promotions, Kyle Fischer, says, "We have long been a strong supporter of Anthony and his awesome no prep race car Hercules. I am so excited to have Hercules in our Hot Shot's Secret SEMA booth this year, as well as Anthony himself to meet and greet his many fans. He is a true class act, as well as the entire Smith family and we at Hot Shot's Secret consider the new Hercules Race Team as an extension of our family. We are looking forward to SEMA and to all the exciting projects that Anthony has planned."
Smith says, "Hot Shot's Secret has been a valuable part of my racing program for many years now. I use their Adrenaline Racing Oils in Hercules for performance and protection as well as their diesel fuel and oil lubricants in my tow rig to get Hercules around the country. When Kyle asked me to have Hercules as their featured vehicle in the Hot Shot's Secret SEMA booth, it was a no-brainer for me. I can't wait to visit with my fans in Las Vegas next month and I'm looking forward to the 2023 season as we debut the new Hercules Race Team and Hercules No Prep Racing Series."
To follow Hercules Racing, visit this Facebook page. For more information about Hot Shot's Secret visit HotShotSecret.com. To visit Hot Shot's Secret and Anthony Smith at the upcoming 2022 SEMA Show visit booth #20651. To speak to a highly qualified technician or to become a Hot Shot's Secret authorized dealer, call 800.341.6516 or email Kyle@LubricationSpecialties.com. Keep up with the latest Hot Shot's Secret company and product news on Facebook and Instagram, or by following #HotShotSecret and #HotShotsSecretMotorsports.