May 18, 2023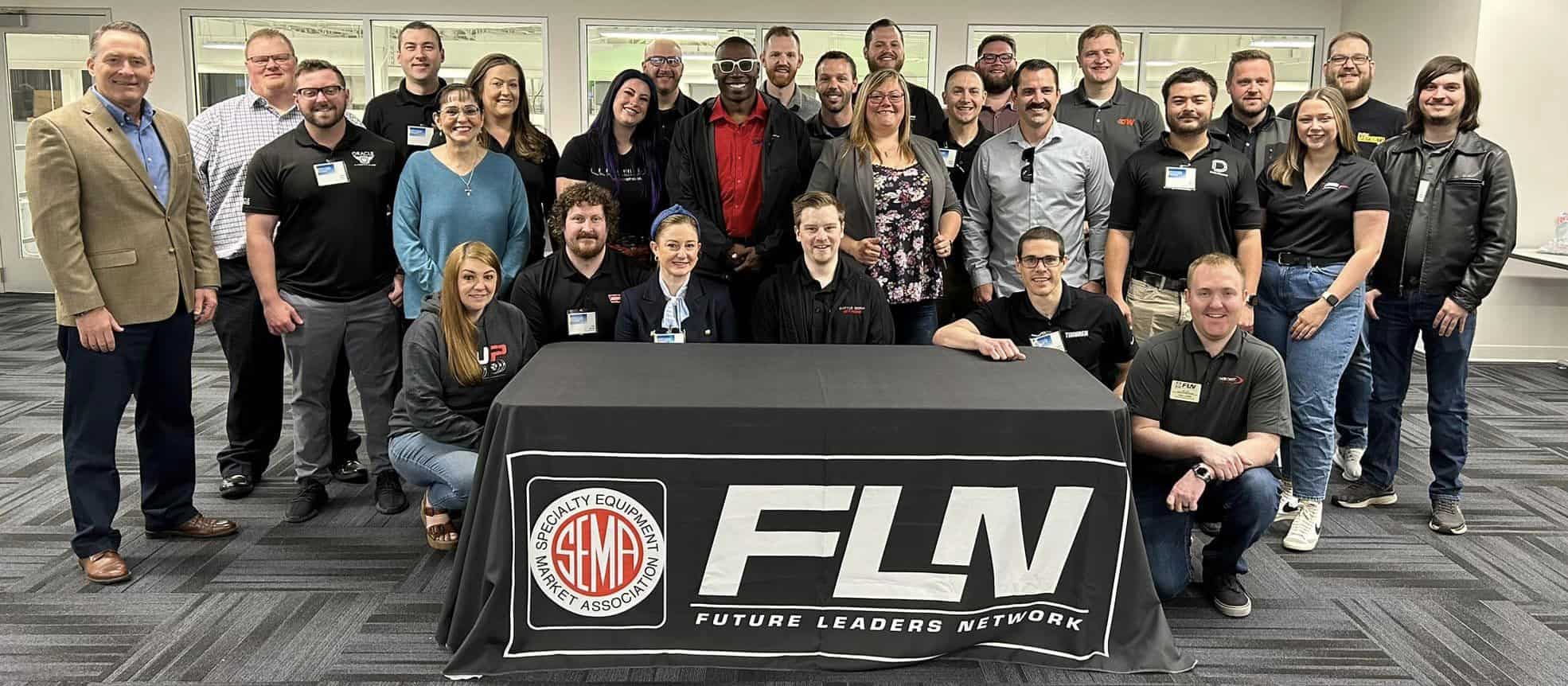 Mt Gilead, OH, (May 18, 2023) – Hot Shot's Secret Brand Manager, Josh Steinmetz, recently completed a two-day in-person program focused on improving individual and business performance sponsored by SEMA's Future Leader's Network. The Future Leader's Network, formerly called Young Executives Network (YEN), provides aspiring professionals aged 39 and under with the opportunity to network with industry professionals to build a higher level of professionalism in all facets of business – marketing, sales, operations, and technology. This unique training opportunity was offered at half the normal cost to select FLN members. The training was held May 11-12 at the SEMA Detroit Garage in Plymouth, MI. This is the second year that FLN has offered a professional development program.
Twenty-five SEMA FLN members were selected to participate in the professional training that included small group break-out sessions. Steinmetz, who is responsible for all major marketing decisions for the Hot Shot's Secret brand, attended the training for the first time and walked away with a wealth of knowledge and initiatives that he says he hopes to put into practice at Lubrication Specialties (LSI). Steinmetz shares below his top five takeaways from the specially designed Dale Carnegie program:
1. Effective communication is important, it provides clarity to all parties involved.
2. Building self-confidence and maintaining a positive attitude are vital components of the Dale Carnegie program. We must step out of our comfort zones, face challenges, and overcome self-doubt.
3. Strong interpersonal skills help to establish rapport, show a genuine interest in others and will build relationships based on trust and respect.
4. Learn how to inspire and motivate others by delegating tasks and providing constructive feedback. This develops strong relationships with team members and creates a positive work environment that fosters collaboration and productivity.
5. Have a positive mindset! Your perceived mindset can lead you in the wrong direction. Opening your mind to an optimistic viewpoint will open doors of opportunity.
Steinmetz says, "This was an incredible opportunity to learn from peers that I respect and admire. I am very grateful to SEMA, our FLN Chair, Nick Caloroso and SEMA Liaison, Denise Waddingham for making this happen and for LSI for giving me the time to meet and learn with my peers in the industry and support my career development goals."
To learn more about SEMA's Future Leaders Network or to join FLN visit here. For more information about Hot Shot's Secret company news, visit HotShotSecret.com.
Keep up with the latest Hot Shot's Secret company and product news on Facebook and Instagram, or by following #hotshotsecret.