March 12, 2020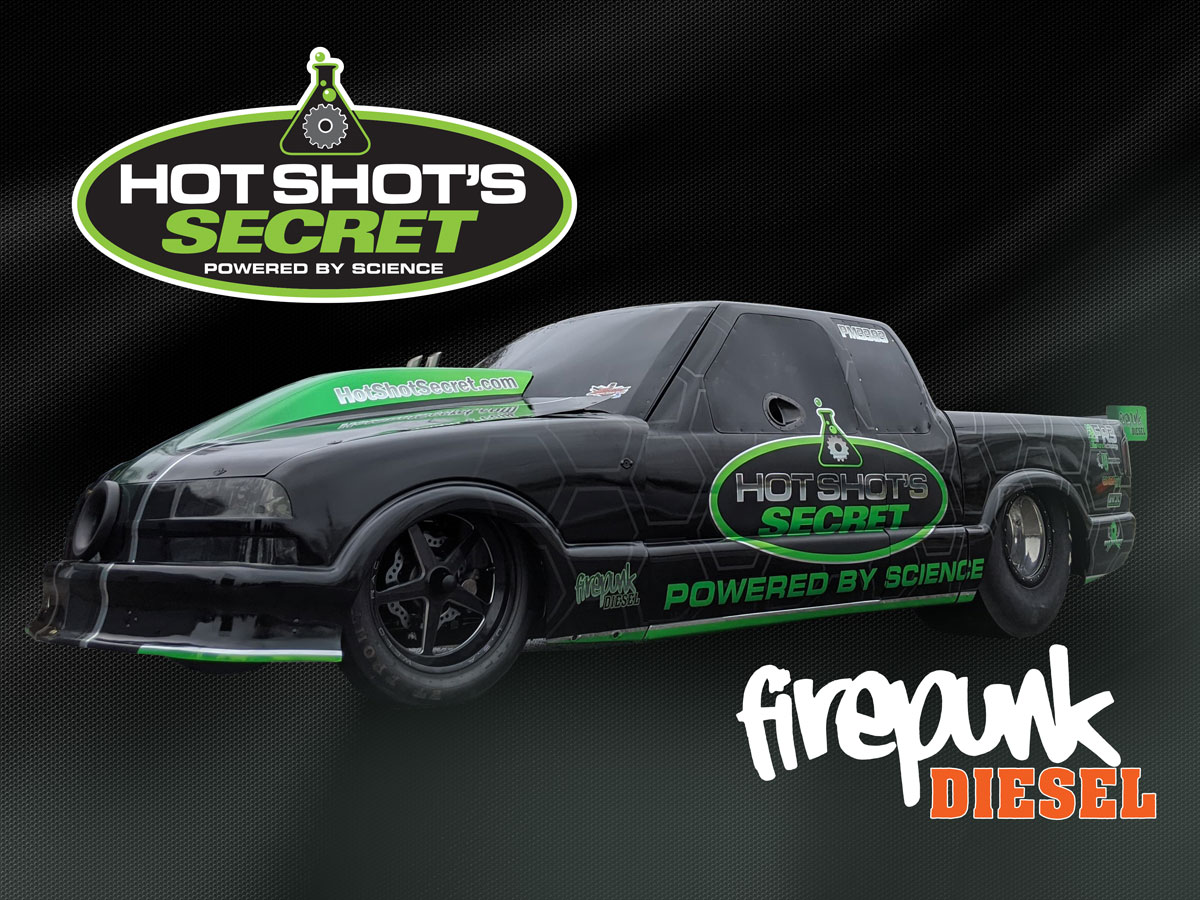 Hot Shot's Secret is pleased to announce the title sponsorship of Firepunk Diesel's Chevy S-10 and unveils an all new Hot Shot's Secret branded design for the world's fastest diesel door slammer. The world record holder built by Firepunk Diesel was used the last two years to support "Save the Racks" to promote breast cancer awareness and touted a metallic pink, black and white checkerboard design. In 2019, the Firepunk Diesel S-10 driven by Larson Miller clinched both the world's fastest diesel door slammer title at 4.25@177mph, as well as the 2019 Outlaw Diesel Super Series (ODSS) Pro Mod points championship; feats that now make this this one of the most easily recognized diesels in the USA. Hot Shot's Secret, with a focus on building brand awareness of the company's growing diesel performance additives has now stepped up to sponsor this world record holder for 2020.
With big plans to break even more records this year, Firepunk Diesel purchased the truck and has installed an all new billet aluminum Cummins engine built by D&J Precision Machine and known as the "Executioner" that produced over 3200 HP and 3300lb ft. of torque on the dyno, giving the truck 500 more HP and saving 200 lbs. of weight for 2020. Along with help from Exergy Performance and Nitrous Express, it is primed for making history this season in hopes of running in the 3's… which would be the first time in the history of motorsports for a diesel-powered vehicle. Sporting a brand-new look, fully wrapped in black with Hot Shot's Secret green chrome accents, the S-10 will make its debut at the ODSS season opener at the Suncoast Spring Shakedown in Holt, FL this weekend.
"Three years ago, we got serious about making a name for our Hot Shot's Secret brand in the diesel motorsports market. To do that we partnered with Lavon Miller and his Firepunk Diesel race team, became title sponsor of the National Hot Rod Diesel Association (NHRDA) and sponsored the Outlaw Diesel Super Series", said Kyle Fischer, Hot Shot's Secret Director of Sales. "Our relationship with Firepunk Diesel began by introducing ourselves and booking their dyno for product testing. Since then it has evolved into a strong partnership that has been truly founded in research and development. It is not really your typical sponsorship relationship. We have both benefited from product development as we share a desire to push the limits of performance. This includes testing of both current and potential new Hot Shot's Secret products, on and off the track, while setting countless records and enjoying growing this sport together. We are beyond excited to have this record setting truck in Hot Shot's Secret green this season and we will be right there with them this weekend at the ODSS season opener with hopes to be making history together!"
Firepunk Diesel Team Owner Lavon Miller says, "This year brings us a new opportunity we are all excited about, moving forward with purchasing the Save The Racks S10 from the Artecona family, we want to continue to support the breast cancer awareness theme that the Artecona family is passionate about, along with chasing our goal to get a diesel powered truck in the 3s. We're very grateful for all the sponsors involved (D&J Precision Machine, Exergy, Nitrous Express) and are excited about the new opportunity to work with Hot Shot's Secret as Title sponsor for the Save the Racks S10! Our relationship was started when their products consistently yielded results on our in-house dyno testing and has continued to grow as we tested and proved their new Adrenaline series of engine oil in all our vehicles, from tow trucks to 3200+hp race engines."
For more information on Hot Shot's Secret's high performance engine oils and additives visit hotshotsecret.com. To speak directly with a Hot Shot's Secret highly qualified technician, call toll free 800-341-6516. Keep up with the latest Hot Shot's Secret company and product news on Facebook and Instagram, or by following #hotshotsecret.