February 17, 2021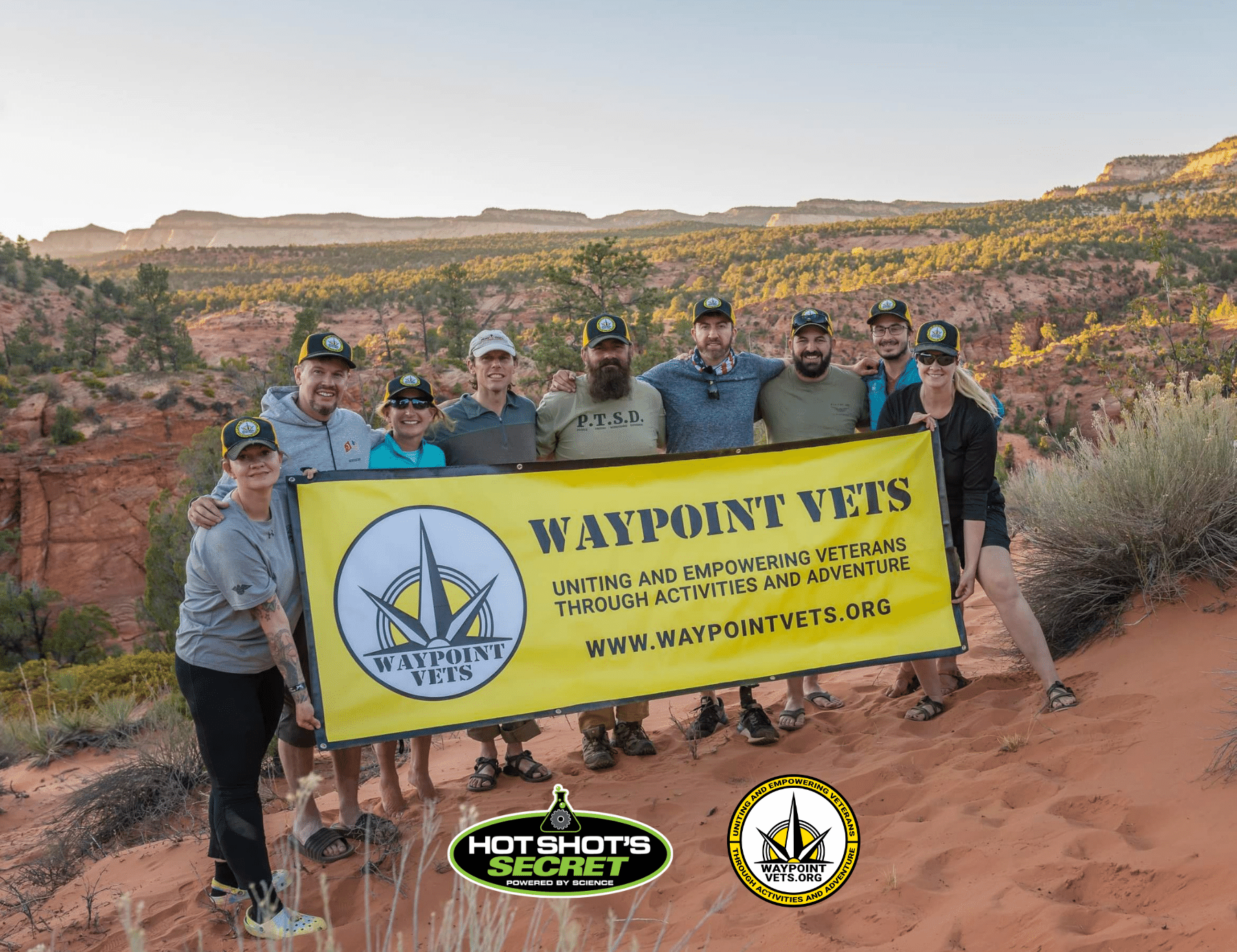 Mt Gilead, OH (February 16, 2021) – Hot Shot's Secret announces plans to fully match donations made to GoFundMe to support five new Waypoint Vets Adventures in 2021. Hot Shot's Secret founder, Chris Gabrelcik, became so impressed with Waypoint Vets' mission of uniting and empowering veterans through their pro bono adventure trips, he chose to financially sponsor the organization's first inaugural canyoneering event last October with a $10,000 gift. Upon learning the positive impact it had on the participating veterans, he urged Waypoint's founder, Sarah Lee, to start a one month GoFundMe Charity Campaign where Hot Shot's Secret will fully match all donations made between 2/16/21 – 3/16/21 to raise funds for five new veteran adventures.
Upcoming Waypoint Vets National Adventures:
• 7-Day Canyoneering Trip in Utah
• 5-Day Mountaineering Adventure to Summit Mount Rainier
• 6-Day Women Veteran's Retreat in Destin, FL
• 7-Day Canyoneering / Kayaking Trip at Lake Powell
• 8-Day Storm Chasing Adventure throughout the Midwest
"Words cannot describe how much of an impact the support of Hot Shot's Secret has made throughout the development of Waypoint Vets. To not only cover the costs for our first adventure, but to also urge me to create this fundraiser with the goal of matching all donations is overwhelming. There truly are amazing people in this world who are ready and eager to make a real difference. It is an honor to have gained Chris's support and a privilege to be at the receiving end of his kindness."
The inspiration for Waypoint Vets occurred when Lee, an Army combat veteran, completed a 4,010 mile cycling journey across America to honor the fallen and shed light on the staggering Veteran suicide rate. Upon reaching the Pacific, she was inspired to form her 501(c)(3) non-profit Waypoint Vets. Sarah shared more on her inspiration to form Waypoint Vets, "While immersed in our beautiful country in such an intimate way, I was gifted three truths:
Veterans never stop being mentally and physically capable of great things.
America is not as divided as we may think.
We must honor the sacrifice of our fallen by living and giving.
The healing and clarity I received saved my life, and I'm adamant about making a real difference for my fellow veterans going forward. I want my fellow veterans to know that they are capable and deserving of great things. I vow to be an active part of the solution when it comes to addressing Veteran's issues and combatting our suicide rate. I am adamant about making a real difference and leaving a lasting positive impact on our community."
The cost for each adventure event is fully covered for veterans who participate. Waypoint Vets plans the adventures, provides the gear, and covers all the costs of travel, meals, and lodging. We offer a variety of activities to accommodate a wide range of fitness levels."
To contribute to this worthy matched fundraiser via GoFundMe Charity visit: https://charity.gofundme.com/o/en/campaign/waypointvets
For more information about Waypoint Vets' mission, visit www.WaypointVets.org. To sign up for one of their upcoming adventures, fill out the Veteran Sign Up Form. The trips are open to honorably discharged U.S. military veterans of any branch of service.
Explore Waypoint Vets
Veteran Participant Experiences: Veterans speak in-depth about the Waypoint Vets impact.
Our Founder's Backstory: An organization with clear intent and humble beginnings.
Fox 17 Ferrier Files and Waypoint Vets: Our recent Fox 17 News Nashville Story.
Hot Shot's Secret and Waypoint Vets: Hot Shot's Secret hosts Waypoint Vets.
To learn more about Hot Shot's Secret's military discount and the support for worthy non-profit causes, visit www.hotshotsecret.com. Keep up with the latest Hot Shot's Secret company and product news on Facebook and Instagram, or by following #hotshotsecret.