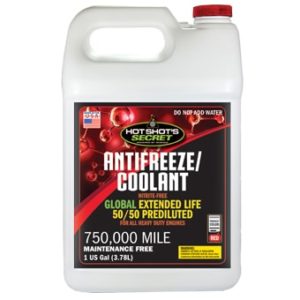 750,000 Mile Heavy Duty Ultra Long Life
FREE SHIPPING on every order
(Contiguous US)
Limited time! Every order over $35 receives a
FREE

32 oz bottle of Stiction Eliminator $32 Value.

Now shipping to USA, Canada, Australia

50/50 mixed with distilled water


 Extended life coolant is compatible with conventional and other extended life brands


 Long life antifreeze is precharged with initial Supplemental Coolant Additive


Red Color
Share your thoughts!
Let us know what you think...
Compares to Industry Specs: • TMC RP 329 Type A/302A-1 • SAE J1034, J1038 • GM 1825M/1899M/6277M • Cummins 90T8-4, 3666132 • Detroit Diesel 7SE298 • Caterpillar EC-1, ECL • John Deere H-5, 8650-5 • Freightliner 48-22880 • Ford ESE- M97B44-A, ESE-M97B44-B Meets and Exceeds: • ASTM D-3306 (Automotive pre-diluted Coolant) • ASTM D-4985 (Heavy-Duty Pre-diluted Coolant) • ASTM D-6210 (Fully Formulated Pre-charged)