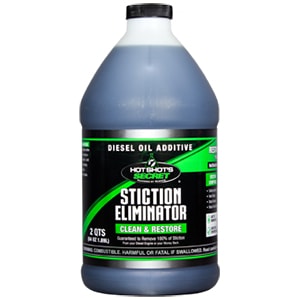 "I own two 1999 ford 7.3 powerstroke pickups. One has 300k miles and was running rough with a hard start problem. The other has 100k miles and it ran with strange transmission shifting without a heavy foot on the throttle. I chose to take the 100k truck because I was wondering if the 300k truck was getting ready to retire its life on the road. I loaded my travel trailer and the 100k mile truck for a ski trip to Sun Valley, Idaho, Steamboat Springs, Colorado, and Bend, Oregon. My prep for the Powerstroke motor was your oil and fuel additive with a Syn oil change.
I have an added step for the HPOP (high pressure oil pump) reservoir to get the uncirculated oil removed. I remove the top Allen-head plug and suck out the oil with a bottle pump. Add new oil, replace plug, run for five minutes,and suck oil out again ( this oil can be very dirty, repeat if needed ). Drain the oil pan, R&R the filter, and plug the oil pan. Pour Hot Shot's Secret Stiction Eliminator into the HPOP reservoir. Any extra Hot Shot's Secret Stiction Eliminator flows to the motor pan, so pour in more than you pumped out. Empty the 2 Quart bottle of Hot Shot's Secret Stiction Eliminator  and add oil to the motor.
This truck is now ready for a 2000 mile expedition.
So,it didn't take long from Sacramento while pulling the Sierra Nevada Mountains that the shifting got better and the engine had added power.  I bought this truck from another owner and he was running very dirty oil. The truck just needed your good cleaning system and some weight to pull. This truck never had it so good. It runs better than new.
The 300k mile 7.3 is my true winter 4 wheel drive truck. It was knocking and I was questioning if it had internal motor problems. I returned home from our travels and needed to take a second trip to the Oregon coast thru ice and snow. I wanted 4-wheel drive and the 100k truck is a 2-wheel drive dually that was out of the question. Well, same oil change and fuel additive to the 4-wheel drive truck. Last night I made it to the Left Coast up the I-5 corridor and this one is running much better. Smooth running and easy starts. I take such good care of my trucks, and I know that my trucks love Hot Shot's Secret. I think the 7.3 really loves the Hot Shot's Secret Stiction Eliminator poured into the reservoir due to the lack of mixing with the lower oil supply.  Pass it on to the 7.3 owners if it sound like a good idea. Thanks again and happy holidays.
Paul S. from Elk Grove, CA