Look Inside a Diesel Engine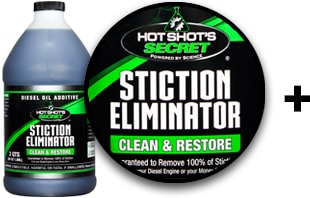 STICTION ELIMINATOR: Restores 9 out of 10 'Failing' Injectors
Stiction Eliminator is a unique blend of synthetic cleaner and a proprietary carbon nano lubricant that cleans stiction while reducing the coefficient of friction. Use in any gasoline or diesel engine to increase fuel economy, reduce wear and dissolve power robbing stiction (sludge).
Original Stiction Eliminator will stop excessive black smoke and bucking and chugging on cold starts. It not only cleans injectors but other parts of the engine as well, including the turbocharger.
Scientifically formulated to eliminate the stiction build-up that causes most injectors to fail. Pour one treatment of our Original Stiction Eliminator into your oil BEFORE replacing your injectors. In less than 4,000 miles you will see, hear and feel the difference as your injectors come back on line. And you'll save thousands of dollars by not replacing injectors that weren't broken to begin with! Originally created for International Truck and Engine, Stiction Eliminator is a formula made from a combination of detergents and dispersants, which can be added into new or used motor oil. Hot Shot's Secret Stiction Eliminator then works to remove build-up caused by the coking and varnishing left behind from overheating the engine's oil.
Use In All Engines:
Semi-trucks, pick-up trucks, farm equipment & autos. Effective in all engines including: Ford Powerstroke, Dodge Cummins, GM Duramax, Saab, Volkswagen, Audi.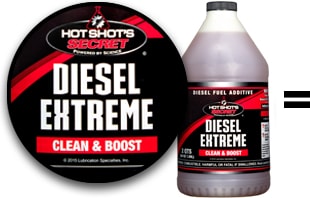 DIESEL EXTREME: Highest Cetane Boosting Cleaner Available
DIESEL EXTREME is a fully formulated, concentrated cleaner to remove all types of internal diesel injector deposits (IDIDs) including waxy and polymeric deposits. In addition, DIESEL EXTREME contains a top tier level of cetane booster, lubricity additive and fuel stabilizer to provide maximum performance while cleaning the fuel system. To maintain the system cleanliness and performance use EDT additive daily on the fuel side and STICTION ELIMINATOR on the oil side of your engine.
Dirt and water in your fuel system steal the power from your diesel. Your engine needs an extreme cleaning. Hot Shot's Secret Diesel Extreme is a new and powerful formula designed to rejuvenate your diesel's fuel system's performance. Add a dose of Diesel Extreme at your next fill up and your engine's fuel system will be cleaned, restored and boosted to its original performance power.
Diesel Extreme will clean everything in your tank, lines and injector tips and remove moisture. When used in conjunction with Hot Shot's Secret Stiction Eliminator you will be giving your truck a complete cleaning on the inside. Stiction Eliminator is cleaning the oil side of the engine while Diesel Extreme cleans the fuel side. This product contains anti-oxidants and is not formulated for use in gasoline engines.

Order NOW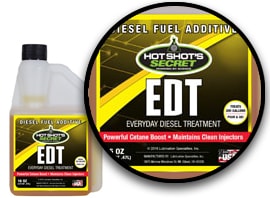 EVERYDAY DIESEL TREATMENT: Cetane Boost & Maintenance Cleaner
One treatment of EDT with each fill up will keep your diesel powering down the road. This concentrated cetane improver tremendously upgrades power and performance in all diesel equipment, increasing fuel and maintenance economy. The stability of fuels will be greatly increased and diesel engines will be kept in a much cleaner, more maintenance-free condition.
EDT is recommended for ALL DIESEL ENGINES because it is completely ashless and has no adverse effects on engine components. This diesel fuel additive complies with the federal low sulfur content requirements for use in diesel motor vehicles and non-road engines.
Fuel treated with EDT is a "PREMIUM" diesel fuel. Every diesel engine would benefit from EDT! The cetane improver in EDT consists of special nitrates which are pro-oxidants and which speed up the oxidative process of fuels during combustion, giving more power and improved mileage. EDT provides significantly increased ignition efficiency with all diesel fuels. In addition, EDT prevents gum and sludge formation. Corrosion is prevented by an inhibitor which produces a protective non-deposit-forming film on metal surfaces in the fuel system and which neutralizes corrosive acids formed during combustion. An important component of EDT is a special emulsifier which disperses condensed moisture. Condensed water in fuels is a major cause of rust, icing in cold weather and the growth of microorganisms in warm weather. Operation of diesel engines is noticeably improved when corrosion and growth of bacteria are prevented. EDT contains an exclusive polar lubricity additive to prevent wear without altering fuel viscosity.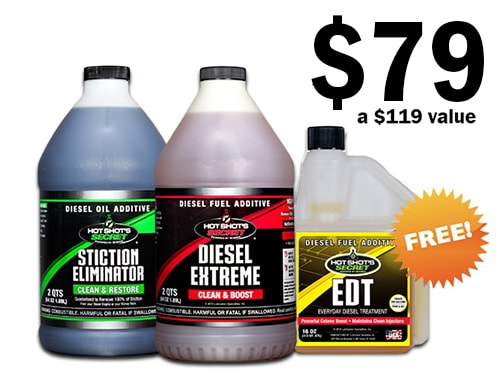 Save $40 off MSRP
Only $79 With

FREE

Shipping

FREE

BONUS Bottle of EDT

 

 
Questions about ordering? Call 800-341-6516