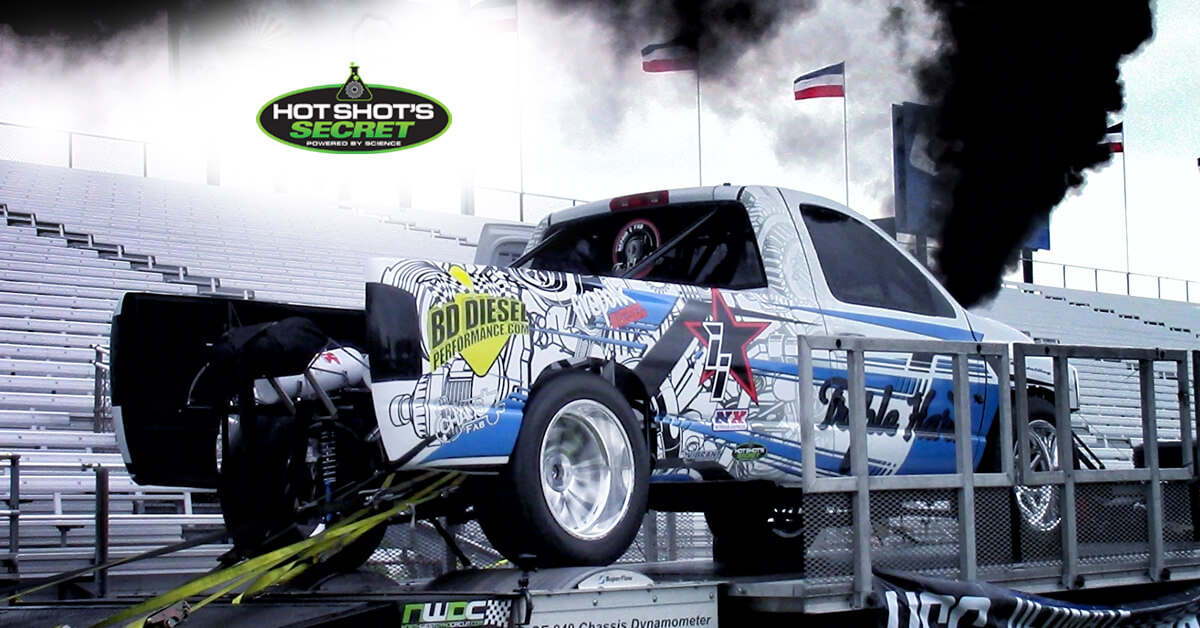 May 10, 2019
With the chance to go out on top, 3-time Ultimate Callout Challenge (UCC) defending champ, Lavon Miller has recently sold his truck and taken a seat spectator-side for the 2019 racing season. As one of the most recognized trucks in diesel motorsports, Josh Scruggs will now pilot the Pro Street truck formerly owned by Firepunk Diesel.
With a pedigree of racing wins from coast to coast, the Firepunk truck has seen its share of victories in a variety of diesel's finest displays. In addition to the former Miller daily-driver and hauler truck, this 2006 Dodge Ram 3500 has been the latest in Miller machines that garnered victories in a variety of manners ranging from the Diesel Power Challenge dyno, drag strip, obstacle course, and sled pull track competitions, to setting Pro Street records in the Outlaw Diesel Super Series (ODSS), running a 4.97 @ 151 MPH, and a top speed in the National Hot Rod Diesel Association (NHRDA), at 174.75 MPH, to even winning the Ultimate Callout Challenge three years in a row. . "We won the UCC in 2016 and we also won the Pro Street Points series in ODSS in 2016," says Lavon Miller of his famed trophy-winning career, "which both seemed like an impossible goal for the 2016 debut on a new build! Going forward we pushed for new goals, earning the Firepunk Team a win in UCC 2017 and 2018, and being the first Pro Street truck to hit the 7's in the 1/4 mile and the first to the 4's in the 1/8th was monumental for our team. By the fall of 2018, we reached a point where we were faster than our chassis cert (7.99/5.00), and SFI had no provision for a faster chassis certification, which brought us to the crossroads of wondering what's next for Team Firepunk."
"If there were ever a 'guinea pig' truck that we have been testing with, it's the Firepunk Pro Street truck," claims Kyle Fischer, Director of Sales for Hot Shot's Secret. "It's exciting to have all of the success working with Lavon and the Firepunk Diesel team, and now we are excited to see what's in store for Josh!"
"It's nerve-racking to take ownership of a famed 2,300 horsepower and 3,400 lb-ft of torque race truck. A lot of people will be watching with their own expectations, to see if I can live up to what has come before. I hope to eventually get to where Lavon was, and many have already stepped up to help. For right now though, we are just trying to get it ready for the season," says new owner, Josh Scruggs of Triple Hart Repair and Fab (Harrisonburg, VA).
Scruggs started racing in Honda classes and moved his way into diesel with a '96 Dodge that his father and he converted into a pulling truck. "We got tired of messing with it though," says Scruggs. "Every time we turned around, the rules were changing in our local pulling matches. We traded it for an '06 drag truck with a 6.7L, 400% injectors, S480 turbo and raced 5.90 index, and we won the 2018 Rudy's Fall Truck Jam."
His '06 was cut up and gutted about as much as it could be and Scruggs had to decide between gutting even more into a Pro Street truck, or sell it and look for something closer to ready, requiring less time for the build. With the decision to sell, Scruggs says it was a done deal within about 48 hours of posting it on Facebook. "I work with Lavon fairly often getting parts for the shop," says Josh, "and I had mentioned I had just sold my truck." Lavon had asked in return if Josh would be interested in the Firepunk Pro Street truck? "I didn't know it was for sale," mentions Josh of the conversation, "and technically it wasn't. But if you're interested in the truck at this price, said Miller, then we're interested in letting it go," claims Josh.
"Selling the Pro Street truck was undoubtedly a very hard decision to make," says Lavon, "but we built the truck specifically to win the Ultimate Callout Challenge in 2016, then continued to race the Pro Street Class the remainder of the year. With 2019 UCC falling on the same date my wife and I are expecting the arrival of a baby girl, we found the timing of the sale to fall in-line with the goals Josh Scruggs had, and decided it was time to pass the torch, and let his team move forward with a chassis that has been so successful for our team here at Firepunk."
Scruggs proceeded to deliver his newly sold truck to the 2018 PRI show, and bought his new one from Miller on the way back. Since then, Scruggs has had the wrenches at work. "We've done a lot of work," says Josh. "We've been watching UCC and noticed everyone switching to cut tires so we have made that change. Lavon offered for us to use his pulling gear and we've kept the hitch and the plates he made. We dropped a big-truck rear end in it; drop-box reverser, 4-disc clutch, changed out the motor, and the chassis for racing is all the same except the power plant."
"I don't expect to pick up where Lavon left off," says Josh. "This truck has been an icon in the diesel world, and the things he has accomplished with this truck has opened a lot of people's eyes to what diesel can do," credits Josh. "Pretty much anything Lavon had set out to do, he's done it with this truck. Lavon's are some big shoes to fill. They were a great team, got after it, had years of practice and they got it dialed in. I could have jumped in as-it-was and probably still couldn't run what he did with it. I still have to learn this truck. With changing the power plant, turbo setups and working out the bugs, it's a lot to get used to. I'm expecting mid 5's until I get some seat time. Until I get used to it, and we get it dialed in as well, probably ain't nothing gonna be the same."
Josh has been seeing some of the same assistance come through the door however, from industry sponsors and peers offering help where they can. "Between the guys here at the shop, BD Diesel, Industrial and so many others lending a hand, it's unbelievable the amount of help in this industry, and we couldn't have done what we have without every one of them. I listen, and I don't take anyone's advice for granted. Many have been with this truck, and we are learning and trying to make something happen. I welcome everyone's knowledge and their experience."
Hot Shot's Secret for example, has continued with providing racing oil to keep the motor alive. "I think it's really gonna help out," says Josh. "With everything Lavon has to say about Hot Shot's Secret, I'm looking forward to a promising oil program to continue. I'm using the Adrenaline racing motor oil with the FR3 mixture, and the same Adrenaline racing transmission fluid that Lavon and HSS have worked to fine-tune."
"We're excited to see it in action this year. We continue with high hopes for this truck's winning ways," says Kyle Fischer. "Hot Shot's Secret has been proud to be a part of this truck's previous program and we are thrilled to see the truck continue at the track. With the torch being passed on, our sponsorship continues, and we are wishing the best to Josh and his entire team! "
For more information on the truck and the current build, follow Josh Scruggs on Facebook and Instagram.