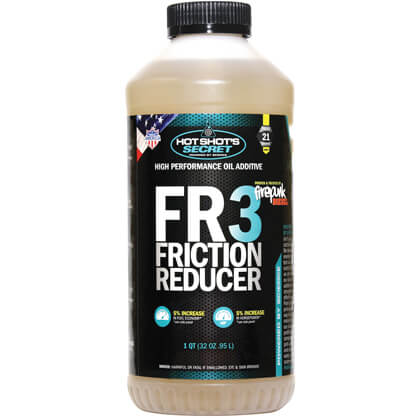 FR3
FREE SHIPPING

on every order (Contiguous US)
FREE SHIPPING over $100

Alaska & Hawaii, limited time only!
(Exclusions Apply)
Limited time! Stiction Eliminator orders $50+ get a
FREE

4 OZ bottle of Diesel Winter Anti-Gel.
Stiction Eliminator orders $99+ get a
TWO FREE

4 OZ bottles
.

Now shipping to USA, Canada, Australia
Increase fuel economy
up to 5% with FR3 car oil additive
Reduction
 in oil operating temperature
 FR3 friction reducer reduces engine wear
up to 43%
Improves
oil's oxidative stability
Friction reducer oil additive
restores
lost compression
Reduces
lifter & valve noise
5 year shelf life
TREATMENT RATIO
1.5 OZ / 1 QUART OIL

Watch Video »
Recommended for ALL gas & diesel engines. NOT for use in automatic transmission fluid.
Share your thoughts!
Let us know what you think...